Home
>> 1922 Royal Baking Powder Recipe Book
1922 Royal Baking Powder Recipe Book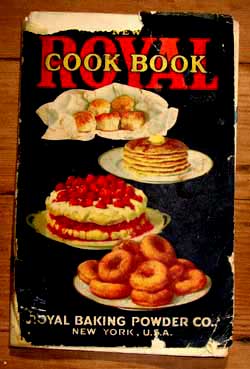 I picked up this 1922 Royal Baking Powder Cookbook at an antique store. It has some of my favorite qualities, old, worn, and it was cheap. I think I paid $2.00 for it. It came in a plastic sleeve so that it wouldn't get torn up with the rest of the cookbooks.
It's not very thick, it's a booklet. So, I thought I would just take pictures of the pages and put them here on one page.
When I read the book there were several recipes that stood out to me, such as the Spanish Cake, the Eggless, Milkless, Butterless Cake, and the Honey Drop Cake.
You can browse the pages, and see if there is any recipe that interests you. Pretty cool little book.
General Suggestions: Measurements, Baking, Table of Equivalent Weights and Measures
The Copyright Page, and Information about Royal Baking Powder
Information about Royal Baking Powder: Absolutely Pure and Wholesome, The Standard for over 50 Years, Used in Leading Hotels.
Index of Recipes A through O.... Index of Recipes O through W... and Some Secrets of Good Cooking
See more old recipe books
1922 Royal Baking Powder Recipe Book
1933 Betty Crocker Bisquick Recipes Cookbook
2001 Armour South Dakota Community Holiday Cookies booklet
Pennsylvania Dutch Recipe Booklet
Food for thought:
"A smile creates happiness in the home, fosters good will in a business, and is the countersign of friends. Yet it cannot be bought, begged, borrowed or stolen, for it is something that is no earthly good to anybody till it is given away." Kitchen Club Recipe book.
---