Home
>>
Party Snacks
>> Homemade Sauces
Easy Homemade Sauce Recipes
Here's a simple way to make Barbeque sauce. I've never found a barbecue sauce recipe that tastes as good as my own.
The sauce you get in those expensive little jars is never enough, or worth the cost. Plus, they always have too much vinegar in it, that makes it taste too strong.
My BBQ Barbecue Sauce

1 onion grated
1/4 cup butter
Cook together until tender. Then add:

1 cup catsup
3/4 cup water
3/4 cup brown sugar
1 teaspoon mustard
1 teaspoon paprika
1 teaspoon pepper
1 teaspoon salt
2 tablespoons Worcestershire Sauce
Optional: garlic or smoke flavoring
Simmer altogether for 20 minutes. Use right away or chill in the fridge. It lasts a long time. Makes 1 pint.
From my recipe box
Basic BBQ Sauce
1/2 cup ketchup
1/2 cup mustard
1/2 cup molasses
1/2 cup vinegar
Combine ingredients in a jar and shake well. Store in fridge.
From my recipe box
Texas Barbeque Sauce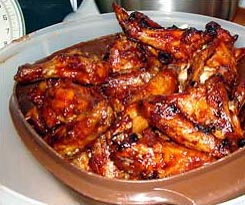 Yield 1 quart.
1/4 of a #10 can Tomatoes
2 Garlic cloves
1 large Onion
2 tablespoons Shortening
5 oz Worcestershire sauce
14 oz Catsup
1 cup Vinegar
2 cups Warm Water
1/2 tsp. Salt
1/2 tsp. Pepper
1/4 tsp. Celery salt
1/4 tsp. Paprika
1 1/8 tsp. Cayenne
2 drops Tabasco Sauce
Put tomatoes through a sieve. Chop garlic and onion; fry in the shortening. Mix the Worcestershire, catsup, vinegar, and warm water together. Add pepper, salt, celery salt, paprika, cayenne, and Tabasco sauce. Combine all ingredients and cook for 10 minutes.
Recipe from a 1963 church cookbook
BBQ Sauce with Coke
Mix well and use for BBQ sauce.
Easy way to Barbeque Chicken.
Cut up 3 lbs. chicken, wash and dry on paper towel. Pour sauce over chicken and cook on top of stove 45 minutes uncovered. Cover and cook over low heat 30 minutes.
Recipe from 1981 church recipebook
Emergency Catsup
1 cup tomato sauce
1 1/4 cup brown sugar
2 Tblsp. vinegar
1/4 tsp. cinnamon
dash of ground cloves and allspice
From my recipe box
Easy Shrimp Sauce
Making shrimp sauce is so easy.
1/2 cup ketchup
2 teaspoons horseradish
Mix it together in a bowl and serve with your shrimp or seafood.
My Note: If you're making a holiday platter, just double the recipe. If you like it stronger, add a little more horseradish.
From my recipe box
Quick Tomato Sauce

1 can tomato paste
2 tablespoons butter
1 tablespoon olive oil
1 clove garlic, crushed
1 cup hot water
1/2 teaspoon salt - dash of pepper
Heat olive oil and butter together in sauce pan, add garlic and brown slightly. Add tomato paste, stirring constantly then add a cup of hot water and let simmer for about 15 or 20 minutes. Remove garlic.
This is to be used with the recipe for Veal Cutlet Parmesean. It is also delicious on macaroni, spaghetti or rice.
Recipe from a 1963 cookbook
Easy Tartar Sauce recipe
My Tartar Sauce
1/2 cup mayonnaise
2 teaspoons sweet relish
Mix it together in a bowl, and serve with your fish or seafood.
If you need more, just double the recipe.
Recipe from my recipe box
Teriyaki Sauce
1 cup soy sauce
1 cup sherry (or 1/2 cup and 1/2 cup water)
2 cloves garlic
1/2 med. onion, cut up
1/2 tsp. dry ginger
2 tablespoons sugar
Put all ingredients into blender. Cover. Press button 11 for 15 seconds. Use this to marinate thin beef strips, chicken or pork at least an hour.
Recipe from 1970
White sauce recipes
Jiffy Hollandaise Sauce
1/2 cup salad dressing or mayonnaise
2 teaspoons prepared mustard
1 teaspoon lemon juice
Combine ingredients. Heat over low heat, stirring constantly until heated through. (Do not boil) Serve over hot cooked broccoli spears. Makes 1/2 cup sauce.
Medium White Sauce
2 Tblsp butter or margarine
2 Tblsp flour
2 cups milk, warmed
Melt butter in saucepan over medium heat. Sprinkle flour into butter and stir until paste forms. Cook for 2 minutes. Add warmed milk to paste, stirring vigorously to mix. Cook sauce until thickened. Remove from heat. Use for Scalloped Potatoes or Baked Macaroni and Cheese
Easy Medium White Sauce
-Blend together 1 cup soft butter and 1 cup flour.
-Spread in an ice cube tray. Chill well.
-Cut into 16 cubes before storing in a plastic bag in the freezer.
For Medium White Sauce, drop 1 cube into a cup of milk and heat slowly, stirring as it thickens.
My Note: This is a great idea, especially for making a quick sauce or Cream Soups.
Sweet Dessert Sauce recipes
Spicy Cake Sauce
Butter - 2 tablespoons
Brown Sugar - 1/4 cup
Cornstarch - 4 teaspoons
Cinnamon - 1/4 tsp. Nutmeg - 1/4 tsp.
Seven Up - 1 - 7oz bottle
Fruit Cocktail - 1 #303 can
Melt butter in saucepan and stir in other ingredients. Cook over low heat until thick. Serve over warm gingerbread or other homemade cakes.
Recipe from a 1963 church cookbook
Caramel Sauce
Combine:
1 cup white sugar
2 cups brown sugar
4 Tablespoons cornstarch
Add 2 cups hot water and cook over moderate heat stirring with a slotted spoon, so no lumps will appear.
Now stir in 2 Tablespoons butter and 1 teaspoon vanilla. This makes a wonderful sauce for ice cream or
homemade pudding
.
Recipe from a 1953 cookbook
Cream sauces for fruit
Cream Sauce 1
1 3/4 cup thick cream
1/3 cup powdered sugar
1/4 cup milk
1/2 teaspoon vanilla
Mix cream and milk, beat until stiff, using eggbeater; add sugar and vanilla.
Fannie Farmer recipe
Cream Sauce #2
1 egg
1/2 cup thick cream
1 cup powdered sugar
1/4 cup milk
1/2 teaspoon vanilla
Beat white of egg until stiff; add yolk of egg well beaten, and sugar gradually; dilute cream with milk, beat until stiff, combine mixtures, and flavor.
Fannie Farmer recipe
More Useful Recipes
Food for Thought:
"Daily prayers lessen daily cares."
---