Home
>> Stopnshop Peapod
Stop and Shop Peapod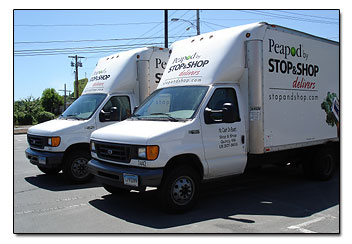 You don't have to lug groceries or wait in lines anymore! Forget the cold and snow! You can also order up to 2 weeks in advance. Let Peapod do your shopping for you.
Order anytime, day or night 24/7 Peapod delivers your groceries right to your door at the time that you select.
Click below to get $10.00 off your first order if you are a first time customer.
Enter the code in the promotional code box on either the home page or at checkout to get a discount off your first order!
Get $15 Off Your First Order at Peapod.com with code PPCJ15 through 8/31. Some exclusions apply, see site for details. Shop Today!
Why shop with Peapod?
Convenience, that's why! Whether you need to shop for a business or your home, it can't get any easier than this. Order online from your place of work, at lunchtime, or anytime, and they will deliver at the time you select.
Why Businesses Shop at Peapod:
For instance, say you work for an animal shelter, and it's your job to shop for the dog and cat food. (You know how big those bags are) Just order online, and Peapod will deliver all those big bags!
Another example of how businesses use Peapod, is for their holiday and Christmas parties, and they order lots of bottled water, coffee and everything else for the office.
Many senior citizens shop online with us too, especially during the winter, so they don't have to go out in the cold and snow.
Get $15 Off Your First Order at Peapod.com with code PPCJ15 through 8/31. Some exclusions apply, see site for details. Shop Today!
PeaPod Locations:
Connecticut, Massachusetts, Rhode Island, New York, New Jersey, Washington DC, Maryland, Virginia, Southeast Wisconsin, Milwaukee, and in Chicagoland.
What if Peapod is not in your area?
I asked Peapod one time what people needed to do to get a Peapod in their area. They told me that the best way would be for a lot of people requesting it. So you would have get your friends, relatives, neighbors, coworkers, etc. to bombard the Stop and Shop manager there, asking them when they are going to get a Peapod, and even go to the Peapod website and keep putting your zip code in there every day until they realize there is a good demand for the service in that area.
How do I know these things?
I work at Peapod. I am called a "Shopper", and I am happy to do your shopping for you. Here's a picture of where I work. The whole upstairs is one big Peapod Store.
Why PeaPod?
I recommend Peapod and I think it is worth it for you to try. They have online weekly specials, and low, low delivery charges, like between two dollars and five dollars, depending on the day. Is it worth it? I would say YES!