Old Recipe Books for Home Cooking
Introduction
If you like old recipes, you've come to the right place. This website is full of some great old fashioned recipes from the oldest cookbooks I could find. Most of the recipes are marked with the date of the cookbook, so you will know what they were using back then to prepare it. If they are not marked they are from my own recipe file. My favorite recipes require few ingredients, but some are so good, it's worth the extra ingredients.
Most of the recipes on these pages vary from the 1920's to the 1970's. It just seems they cooked food in simpler ways back then.
1893 Fannie Farmer Cookbook
Who was Fannie Farmer? Her recipe books have been around for years. Even the cookbook I have has been taped together. Which says only one thing, it's been used a lot! The problem that I have had with this cookbook is that many ingredients and utensils are not in use anymore.
"Fannie Farmer 1857-1915 American cookbook author and teacher and writer on cookery in Boston. A paralytic stroke prevented her from attending college, and she turned to cooking, at home and at the Boston Cooking School, from which she graduated in 1889.
She was director of the school from 1891 until 1902, when she opened Miss Farmers School of Cookery, established to train housewives and nurses, rather than teachers, in cookery. She edited The Boston Cooking School Cook Book (1896), one of the best-known and most popular of American cookbooks "
1922 White House Cookbook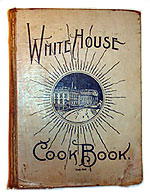 The White House Cookbook I recently came across is so cool. The inside cover says that it was first copyrighted in 1897. The version I have has a copyright of 1922.
"A Comprehensive Cyclopedia of Information for the Home"
...Containing...
Cooking, toilet and household recipes, menus, dinner-giving table etiquette, care of the sick, health suggestions, facts worth knowing, etc"
by Hugo Ziemann (steward of the White House)
and Mrs. F. L. Gillette
The Saalfield Publishing Company, New York, Akron Ohio, Chicago 1922 see this page
The nice thing about this big thick( 609 page) book, along with the recipes, is the cool pictures of the presidents wives. There is a dedication on the inside that says: "To the wives of our Presidents, those noble women who have graced the White House, and whose names and memories are dear to all Americans, the volume is affectionately dedicated by the author." see this page
-See a picture of President Wilson's wife, President Roosevelt's wife, President Harding's wife, President Cleveland's wife, President Taft's wife, President McKinley's wife,
-A collage of Louisa Catherine Adams, Mrs. Martin Van Buren, Mrs. Andrew Jackson, Mrs. Letitia Christian Tyler, and Mrs. President Harrison
-Another collage of A. Adams, Martha Jefferson Randolph, Martha Washington, Mrs. James Monroe, and D. P. Madison.
-A collage of Mrs. James Polk, Mrs. Abigail Fillmore, Mrs. Abraham Lincoln, Harriet Lane Johnson, and Mrs. Franklin Pierce.
-A collage of Mrs. Ulysses S. Grant, Mrs. Andrew Johnson, Lucy Webb Hayes, Lucretia Rudolph Garfield, Mrs. Harrison, Frances Folsom Cleveland, and Mary Arthur McElroy.
1927 Karo Corn Syrup Cookbook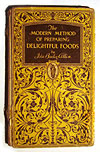 Another favorite old recipe book is from 1927, and it's called the "Modern Method of Preparing Food by Ida Bailey Allen. The front page says, "International Nutrition Authority, "Author of "Mrs. Allen on Cooking-Menus-Service," "Your Foods and You," or "The Role of Diet." etc." See this page
I like it because they add little historical facts along with the recipes, mostly about corn. I have included some of the articles such as, Colonial Breakfasts Colonial Lunches and Colonial Dinners
Also see 1800's Living Costs and Flour Milling History
The cookbook was apparently put out by the Karo Corn Syrup Company. The inside page says, Copyrighted, 1927 CORN PRODUCTS REFENCING COMPANY NEW YORK. Most of the recipes include either the Red Label or Blue Label Karo Syrup. In the back are quick menu ideas for their Bridge Parties.
1933 Betty Crocker Bisquick Recipe Book

My third favorite recipe book is an old Bisquick recipe book from Betty Crocker, copyrighted in 1933. I can just imagine how excited housewives were when they invented Bisquick, what a convenience!
The cost of this recipe book is 25 cents. I'll bet that was a lot of money to come up with during the Great Depression.
Old Bisquick Recipes
-
Bisquick Biscuits
-
Bisquick Coffeecakes
-
Bisquick ShortCakes
-
Bisquick Cookies
-
Bisquick Desserts
-
Bisquick Donuts
-
Bisquick Muffins
-
Bisquick Quick Breads
1936 Old Kraft Cheese Recipebook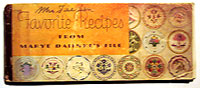 My third treasure find was an old Kraft recipe book from 1936. In the back of this little Kraft recipe book are pictures of all of the products they had during the 1930's. Such as their Kraft Dressings, Kraft cheeses, the huge block of American cheese, and who can forget the cute little reusable jars that the cheese spreads came in? See their recommended cheese tray.
The cover and back of the paperback book has designs that appear to be designs of dinner plates. The inside cover says, The cover design is a collection of rare plates, some of which date back as far as the seventh century B. C. The originals are in museums. Kraft Phenix Cheese Corporation, general offices... Chicago Copyright 1936
1937 Universal Cookbook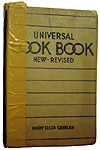 This is another old recipe book I have, and it is quickly becoming my favorite. It has beat out my 1950's recipe book for "ease of use."
The inside cover says, "Universal Cookbook... New - Revised...by Mary Ellen Quinlan... University of Chicago... with ADVICE TO THE HOUSEWIFE. Compiled from bulletins of the Department of Agriculture Prepared by United States Government Experts. BRIDGE! What to Serve!
Copyright 1937 - Published by The World Syndicate Publishing Co. Cleveland, Ohio New York, NY
1940 Old Better Homes and Gardens Binder Cookbook

The picture on the right is an old Better Homes and Gardens binder cookbook, the Copyright inside says 1930, 1937, 1938. Fifth Edition 36th printing, Jan 1940. Patent Pending. Published by Meredith Publishing Company, Des Moines Iowa.
It is about to fall apart, and I haven't really opened it up to see what is inside, but whoever owned it, also added some recipes, and there are notes from the 1940's thru the 1960's.
What Makes Old Recipes Unique?
Will you find these old recipes anywhere else on the web? Absolutely not! What is so unique about old recipes? They are unique because the simplest ingredients are used, and makes for some very basic easy cooking.
Collecting Old Recipe Books
I didn't really ever think about old recipes that much, until I found myself looking for some basic, old fashioned, simple, recipes I used to cook when I was younger. I found a recipe book from the 1950's at a yard sale. Then one day when I went to a thrift store, looking for more recipes, I was fortunate to find three more old recipe books. I now have a little bit of a collection going. It seems people like to collect old books, but for some reason they don't want old recipe books, so I am delighted.
What's New?
2005:
Other Cookbook recipes on this website include: 1959 Farm Journal Cookbook; Pillsbury Bakeoff Recipebook; The Cookie Collection cookbook; Old Time Recipes recipe book
2006:
- Recently included recipes from my mother and sisters, including an Amish Cookbook.
2007:
- Recent recipes are from Southern South Dakota. Added a 1982 Ladies in Pink Recipe Book; a 1987 Recipebook called "Everyone's a Winner"; and a 1998 Platte SD Hospital recipe book called "Neighborhood Delights" which I found at a thrift store.
2008:
- added a 2001 Cedar County "Classic Creations"; and a - a Zion Lutheran Church cookbook from Delmont, SD
2009:
- added canning recipes from an old binder called "Kitchen Club Recipes," and recipes from Trinity Lutheran 1945 Cookbook, Yankton, SD
2010:
- added to my collection of cookbooks: The New York Times 1961 Cook Book; - Betty Crockers Binder Cookbook #9800; The 1946 Joy of Cooking;; 1930 Meals Tested and Approved, Good Housekeeping Institute; - Gold Medal Jubilee 1880-1955 recipe book; - 1922 Royal Baking Powder Recipe Book; The 1935 Service Cookbook by Ida Allen Bailey; a 1928 Modern Priscilla Cook Book; a 1972 Farm Journal Cookbook; A Warrick County "Cooks for Life." 1978 German Cookbook
2011:
- I recently added more Recipe books to my collection. An old 1950's recipe book from Tripp, SD called Community Digest; a 1964 Ladies Aids Recipebook from Tyndall SD; Then I grabbed a 1922 Fannie Farmer Cookbook, the Boston Version at the Antique Mall; At a flea market I found an Old 1914 Pillsbury Recipebook; The Home Demonstration Clubs, Davison County, SD, it's pretty old, but no date. Added... What's Cooking in Rapid City, South Dakota, compiled by Bethel No. 5 International Order of Job's Daughters, copyright 1970; a Honey of a Cookbook, 1972 by Dogwood Tree Fine Country Foods, Henry's Drive-in; Meals in Minutes; a 1963 Better Homes and Gardens; found a 1979 Fannie Farmer paperback cookbook, apparently the first paperback.
Found a 1978 Pennsylvania Dutch Cooking Recipebook; a 1980 Chinese Cooking for Beginners by WEI-CHUAN Huang Su-Huei; Updated the oldrecipebook pages into a new format and larger font. Added a new page... Armour SD Holiday Cookie Cookbook 2001 to the website. Added a new page 1970's Sunbeam MixMaster Recipe booklet to the website
2012
Added the page Pennsylvania Dutch Cooking recipe book to the website; and added the old Rival Crockpot Recipe Book Manual.
2013
Found a 1925 cooking scrapbook. The majority of recipes were cut out of the old Good Housekeeping Magazines and pasted into the scrapbook pages. Very cool!
2014
Spent the summer in St. Petersburg, RU. Now I have some Russian recipes. :)and bought an Amish Cookbook called "Family Favorites from our Kitchen."
2015
Updated the oldrecipebook pages into a new template, making it mobile friendly.
Food for Thought:
"Anyone who does not read good books has no advantage over the one who cannot read."


"Life is an exciting book, and every year starts a new chapter."
---