Home
>>
Egg Recipes
>> Breakfast Recipes
Breakfast Recipes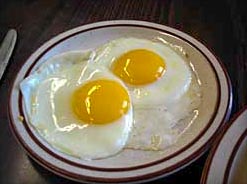 On this page are various breakfast recipes because I'm always looking for something different to make.
Isn't that a great picture of some Sunnyside Up eggs? I think that was part of my breakfast when we went to Cracker Barrel. I like Sunnyside Up eggs with pancakes. I just couldn't resist taking a picture. The secret to cooking great Sunnyside up eggs, is the temperature of the pan. Not too hot and not too low. Sometimes I put a lid on the pan to get the temperature to rise a bit, so the egg white will get done.
Morning Toast

Here's to him who early rises,
And goes thru his exercises;
Wakens from his tranquil sleep,
Exhales slowly, inhales deep,
Always steps right out of bed,
Stretching arms above his head;
Bending over, touching toes
I am never one of those.
Morning, I'm too hot or cold;
Other times, I'm far too old.
by Pearl C. Sickles

The Egg in a Basket recipe below is fun to make. My mother made these for us when we were growing up. It's like you're making your egg and toast at the same time. Back then we called it a "Egg in a Hole-ster."
Egg in a Basket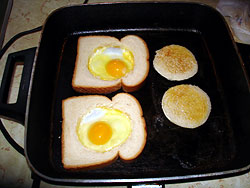 Here's how you make them:
You take a slice of bread, and a glass, and use the open end of the glass to cut a circle in the bread.
Heat your pan over Med heat and put in the piece of bread with the hole, put a tsp. butter inside of the hole, then crack the egg into the center of the hole.
Let it cook for a few minutes until the white sets. Then flip it with the spatula and brown the other side.
Take the piece of bread left from the cut hole, butter it and lay it along side your "Egg in a Basket" to brown it. Eat and enjoy.
My Note: I like to use small to medium eggs for these.
Scrambled Eggs Tip: Bread crumbs added to scrambled eggs will improve the flavor and make larger helpings possible. Sometimes I add part of the hash browns to my scrambled eggs too.
Cheesy Scrambled Eggs
4 eggs - two for each person
2 Tblsp butter
2 slices of American cheese
Break eggs in a bowl, beat well, add cheese in torn pieces. In a skillet, over medium heat, melt the butter, pour in the eggs and cheese.
Stir with a spoon over medium heat until the desired consistency.
My Note: We like the eggs soft scrambled. Chopped meat like sausage or bacon can be added. It is also good with chopped ham and a little onion. If you make Hash Browns first, then leave some of the hash browns in the skillet, pour in your eggs and scramble the eggs with the Hash Browns. Make some biscuits first.
Omelet Tip: For fluffier omelets add a pinch of cornstarch before beating.
How to Make an Omelet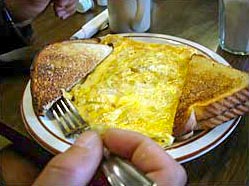 First decide what kind of omelet you would like. You can add cheddar cheese, mushrooms, chopped ham, onions, whatever you like.
Here's the way I make omelets:
Crack two eggs in a bowl and beat with a fork.
Cut up a little onion, bell peppers, and ham, mushrooms or whatever, and add to a skillet with a little butter.
After they are tender, move them to one side of the pan and pour in the eggs.
Put a lid on the pan until the eggs are set, then open the lid and push the the veggies and meat on top of the eggs. Cover with a slice of cheese.
Grab your spatula and flip one side of the eggs onto the other side with the cheese. Replace lid and turn stove off.
In a few minutes the cheese should be melted, then use your spatula to move the omelet to a plate.
Breakfast on the Grill - This is our favorite breakfast in the Spring and early Fall. During the summer, the flies are too bad to cook outdoors. The recipe is below. How do you like that skillet handle potholder I made? It slips right on. I made them for all my iron skillets this past winter.
Breakfast on the Grill
a little oil
hash browns
chopped onions
crumbled sausage or bacon
2 eggs
cheddar cheese
Put a little oil in a skillet and add the hash browns and meat. Put it on the grill with a lid on it. When brown on one side flip to the other side and add the onions. Then scramble your eggs and pour on top of the hash browns. When the eggs are set, sprinkle on grated cheddar cheese. When the cheese melts, your ready to eat.
Breakfast Hot Dishes and Casseroles
Breakfast Bake
1 1/2 to 2 lbs. pork sausage (Jimmy Dean) cut, browned, and drained
1 1/2 cups shredded Velveeta cheese
Pinch of salt
9 eggs, slightly beaten
3 cups milk
3 slices bread, cubed
Pour into a 9x13 pan. Bake uncovered at 350 degrees for one hour. Can prepare ahead of time for future baking.
See the recipe: Breakfast Bake
Breakfast Brunch
6 to 8 eggs
6 slices bread, cubed
1 cup grated cheese (Cheddar or American)
1 1/2 to 2 cups milk
1 lb. sausage or ham
Seasonings that can be used are: 1/2 tsp. salt, dash of pepper, 1 tsp. dry mustard or 1/2 cup chopped onion.
Grease 9x13 pan. Place bread crumbs on bottom. Brown sausage and drain; let cool. Place meat over bread. Sprinkle cheese and/or broccoli over meat. Beat eggs; add milk and seasonings. Mix and pour over bread, cheese, and meat. Refrigerate for 12 hours or overnight. Bake at 350 degrees for 30 to 45 minutes or until knife inserted comes out clean.
Variation: 1 (10oz.) pkg. frozen chopped broccoli (thawed). Also, 1 can cream of mushroom soup can be mixed with the beaten eggs, milk, and seasonings.
See the recipe: Breakfast Brunch
Breakfast Casserole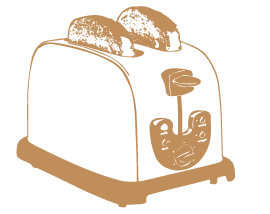 6 eggs
2 cups milk
2 slices cubed white bread
1 cup packed cheddar cheese(grated)
1 lb. mild sausage, browned and drained
1 tsp. dry mustard
1 tsp. salt
Beat eggs, milk, salt and mustard. Add bread and stir. Add sausage and cheese. Pour in greased 9x13 casserole. Refrigerate overnight. Bake 40 minutes at 350°. Let stand a few minutes before serving. Serves 10.
Breakfast Casserole 2
Grease a 9x13 pan.

1 pkg crescent rolls - pull apart and press in bottom of pan
1 lb. sausage (in a roll). Slice and layer on rolls
1 green pepper - chop and layer
1 onion (small) - chop and layer
Carrots - shred and layer (as many as you want)
Beat 12 eggs and 1/2 cup milk together and pour over casserole.
Top with 2 cups grated cheese
Bake at 350 for 45 minutes or until the middle is cooked through.
Breakfast Pizza
1 lb sausage
1 cup cooked shredded potatoes
1 cup cheddar cheese
5 eggs
1/2 cup milk
1/2 tsp. salt
1/4 tsp pepper
Cook meat until browned, then drain. Take your favorite biscuit recipe and put in bottom of a jellyroll pan. Spoon meat over crust, then add potatoes and cheese. Mix together eggs, milk, salt and pepper. Pour over all. Bake at 375 for 25 to 30 min.
Quiche Lorraine
9 inch pastry pie crust
6 crisply cooked bacon strips
1/2 cup shredded or diced Swiss cheese
1 1/2 cups light cream
1/2 tsp salt
1/4 tsp nutmeg
dash white pepper
1/2 cup diced ham
4 eggs
1 thin onion
Make your pie crust. Sprinkle bacon and cheese on bottom of crust. Put remaining ingredients in blender. Cover. Press button 11 for 10 seconds. Flash blend if onion needs more blending. Do not over-blend. Pour into pie crust over bacon and cheese. Bake in a preheated oven at 350 for 30 minutes or until top is golden brown and mixture is set. Serve warm.
Blender recipe from 1970
Note: Vary this delicious dish by substituting a 7 ounce can of flaked and drained crab meat for the bacon and have a crab quiche. Hot garlic bread, crisp green salad completes your meal.
Breakfast Recipes Pages
---