Old Recipe Book
>>
Bakery
>> Cornbread
Hush Puppies, Cornmeal Muffins Recipes
Hush puppies are a favorite with fried fish. Fry them in the fat in which the fish has been cooked, it gives them more flavor. On this page, I put all the different types of breads you can use cornmeal in. Such as cornbread, cornmeal muffins, corn cakes, and hush puppies.
I wish I had the recipe for Bubba Gumps Hush Puppies. We had some when we ate at Bubba Gumps Seafood Restaurant in Times Square.
Basic Hush Puppies
Mix together
2 cups cornmeal
2 teaspoons baking powder
1 teaspoon salt

Stir in
3/4 cup milk
1 beaten egg
1/4 cup finely chopped onion
Drop by the teaspoon into deep hot fat and fry until golden brown.
Drain on absorbent paper and serve with hot fried fish.
Recipe from 1953
Southern Hush Puppies
2 cups self-rising cornmeal
1 cup self-rising flour
1/2 teaspoon salt
3 tablespoons sugar
3 large eggs, lightly beaten
1 cup milk (add more if batter is too thick)
1 1/2 cup shredded Cheddar cheese
2 Jalepeno peppers, seeded and chopped
1 (17oz) can cream-style corn
1 large onion, chopped
vegetable oil
Combine first 4 ingredients in a large bowl. Combine eggs and milk; add to dry ingredients, stirring just until moistened. Stir in cheese, pepper, corn, and onion (do not over-stir batter).
Pour oil to depth of 2 inches into a small Dutch oven; heat to 375°. Carefully drop batter by rounded tablespoons into oil; fry puppies, a few at a time, 3 minutes or until golden brown, turning once. Drain on paper towels.
Hush Puppies
2 c. cornmeal
1 Tbsp. all purpose flour
1 tsp. salt
6 Tbsp. chopped onion
1 tsp. soda
1/2 lb. cheddar cheese, shredded
1 egg, beaten
1 1/2 c. buttermilk
hot shortening
Mix all dry ingredients; add chopped onion, shredded cheese; then the beaten egg and buttermilk. Stir well. Drop in hot shortening - will float when done. Yield 6 servings.
Recipe from 1968 church cookbook
Top Sail Island Hush Puppies
3 cups yellow corn meal
3 cups self rising flour
1/4 cup sugar
1 tsp baking powder
1 1/4 tsp. salt
1-1/2 cup water
3/4 cup evaporated milk
1/4 cup vegetable oil
1 egg, beaten
Drop by spoon in deep hot oil, 370, a few at a time until golden brown. Drain well on paper towels. Makes about 5 dozen.
Recipe from an Indiana church cookbook
Recipes for Cornbread
Mexican Cornbread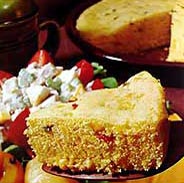 2 eggs
1/2 cup oil
1 cup sour cream
1 cup cream style corn
1 cup self-rising cornmeal
8 oz jar Jalepeno peppers
1/2 cup cheddar cheese grated
9 inch greased baking dish
Pour in 1/2 batter; lay peppers on and half of cheese. Pour rest of batter in and top with cheese. Bake 350 for 30 to 40 minutes.
Cornbread
1 c. cornmeal
1 c. flour
1/4 c. sugar
4 tsp. baking powder
1/2 tsp. salt
2 eggs
1 c. milk
1/4 c. vegetable oil
Mix together dry ingredients. Add milk, eggs, and oil. Pour into a 9x9 inch pan and bake for 30 minutes.
Amish Recipe
A Dash of History: Johnny Cake wasn't named for Johnny anyone. It's a corruption of "Journey Cake," the sturdy cornmeal bread carried by early Yankee travelers. Nearly every good New England cook has a recipe. The version that's brought fame to The Bank Cafe, Warwick, RI is this recipe below. Makes about 16 three inch cakes.
Johnny Cakes
2 cups white cornmeal
1 teaspoon salt
3/4 cup boiling water
1 cup milk
Combine cornmeal and salt in a medium-size bowl; stir in boiling water, then milk. Drop batter, a heaping tablespoon at a time, into a heated well-greased frying pan or griddle; spread to a 3 inch round. Fry 1 to 2 minutes, or until underside is golden; turn; brown other side. Repeat with remaining batter, greasing pan before each baking. Serve hot with melted butter or margarine and maple syrup.
1972 Family Circle American Classics Cookbook pg 36
Johnny Cake 9x13
1 scant cup sugar
3 eggs
1 cup milk
3 tsp. baking powder
1 cup cornmeal
1 1/2 cups flour
1/2 cup vegetable oil
Cream sugar and eggs, add the oil. Beat well. Add milk and cornmeal. Beat. Sift together the flour and the baking powder. Add to the first mixture. Mix lightly and quickly. Pour into a sprayed 9x13 pan. Bake at 350 degrees, 35 minutes. Tasty with soup.
1997 Friedens Church Recipebook pg 71
Cornmeal Muffins recipe
Cornmeal Muffins
1/2 cup cornmeal
1 cup flour
3 tsp baking powder
1 Tablespoon sugar
1/2 tsp salt
1 tablespoon melted shortening
3/4 cup milk
1 egg
Mix and sift dry ingredients. Add gradually milk, egg, well beaten, and melted fat. Bake in greased muffin pans at 400 about 25 minutes Makes 8 muffins
Sprinkle tops with bacon pieces if desired before baking. Also try pushing a square of cheese in the middle before baking.
Recipe from the back of a package of cornmeal.
My Note: I half this recipe to make 6 muffins to fit in my toaster oven. I also add another half cup of water, to make the muffins more biscuit-like.
Recipe for cornstick pans
Crispy Corn Sticks
1 cup cornmeal
1/4 tsp salt
1/4 tsp baking soda
3 Tblsp vegetable oil
1 cup buttermilk
1 or 2 tablespoons light corn syrup
Sift cornmeal, salt, and soda. Add oil; stir. Add buttermilk and syrup; mix well. Fill greased cornstick pans. Bake at 400 for 30 minutes.
Recipe from 1974
Corn Fritters
1 can creamed corn
yolks of 2 eggs, well beaten
1/2 cup cracker crumbs
1/4 tsp. salt
1/2 cup sweet milk
1 tsp. baking powder
1 cup flour
Mix batter and drop by tablespoon into hot lard and brown.
See the recipe: Corn Fritters
Corn Griddlecakes
2 cups flour
1/3 cup sugar
1/2 cup corn meal
1 1/2 cups boiling water
1 1/2 tablespoons baking powder
1 1/4 cups milk
1 1/2 teaspoons salt
1 egg
2 tablespoons melted butter
Add meal to boiling water, and boil five minutes; turn into bowl, add milk, and remaining dry ingredients mixed and sifted, then the egg well beaten, and butter. Drop by spoonfuls on a greased hot griddle; cook on one side. When puffed, full of bubbles, and cooked on edges, turn, and cook other side. Serve with butter and maple syrup.
Cornmeal Mush
2 3/4 c. water
1 c. cornmeal
1 tsp. salt
1 tsp. sugar
1 c. cold water
Bring 2 3/4 cups water to a boil in saucepan. Combine remaining ingredients in a mixing bowl. Gradually add cornmeal mixture to the boiling water, stirring constantly. Cook until the mixture thickens, stirring frequently. When thickened, cover, turn heat to lowest settings, and cook for 20 to 25 minutes. Pour into a small loaf pan. Cool then chill thoroughly in the refrigerator.
To unmold the cornmeal mush, loosen edges with a spatula. Turn out onto a cutting board. Cut into 1/2-inch slices, dip into extra cornmeal. Fry in a small amount of hot bacon drippings or a combination of oil and bacon drippings. Turn to brown both sides. Serve with butter and hot syrup. Delicious with bacon and eggs, too. Wrap unused cornmeal mush in plastic wrap and store in refrigerator.
My Note: This Cornmeal Mush is something my mom used to buy in the grocery store, and slice it and fry it, and serve with butter and syrup. I haven't seen this in the store in a very long time. Fortunately, I have the recipe.
Food for Thought:
"You can make more friends in two months by becoming genuinely interested in other people than you can in two years by trying to get other people interested in you."
---