Home
>>
Canning Recipes
>> Russian Recipes
Russian Home canning Recipes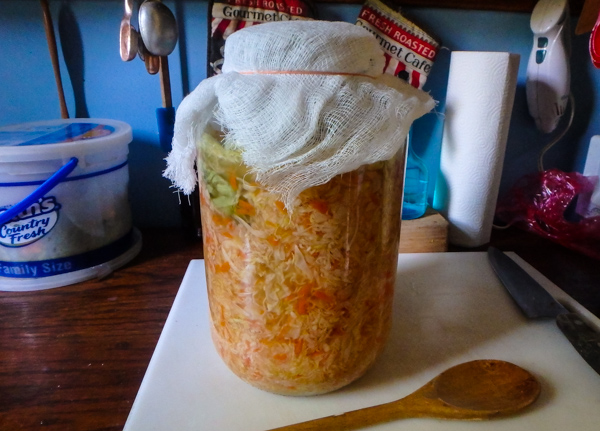 Here's a picture of the salt cabbage I've been making. I'm using Tanya's recipe which is below. It's pretty easy especially if you have a Mandoline Slicer. Salt Cabbage is pretty much the same thing as Saurkraut.
Also see recipes for Pickled Vegetables.
Tanya's 7 Day Salt Cabbage
1 large cabbage (4.4 lbs) - sliced thin. Save large outer leaves
1 large carrot - grated
2 1/2 T canning or sea salt
Mix cabbage and carrots in a big enamel or stainless steel pot. Mix in salt with your hands. After it starts wilting, pack it into a clean gallon jar. Press the cabbage down with a wooden spoon and use the torn large cabbage leaves to cover the kraut (inside the jar). Fill jar to the top with cool boiled water. Set the jar in a larger empty pan/pot, (as an overflow catcher). Cover the top of jar with a piece of cheesecloth and rubber band. Now wait 3 days.
On the 3rd day, take the cheesecloth off, remove the large top leaves, and make holes in the kraut with the end of a wooden spoon. Then tuck the wilted large leaves back in, and cover back up with the cheesecloth and rubber band. Set back in the empty pot. Wait 24 hours.
After 24 hrs, dump the contents of the jar into a large pot/bowl, and stir in 2 1/2 Tablespoons of sugar. Stir it up good, and then scoop it back into the jar. Pour the juice back in too. Put the large leaves back in, and put a lid on it, then put it in the fridge. Ready to eat in 3 days or when you're ready!
My Note: This is the 4th or 5th time I have tried to make salt cabbage, and this recipe is the only one that has worked for me. Also, note, that this recipe is for a 3 liter jar which is common in Russia. I only have gallon jars, and so my jar was not full to the top with cabbage, it was 3/4 full. If you want to fill the jar, then increase the salt to 3 Tablespoons.
Russian Pickled Cabbage
1 big cabbage
1 beet
1 piece of hot pepper
1 whole peeled garlic
salt
vinegar
Cut cabbage in big squares
Cut beet into thin French fries
Cut pepper into pieces

Place in jar in layers, and put the garlics on top. Fill with boiling juice (1Tablespoon salt for 1 liter of water and vinegar) Leave in a warm place 2 or 3 days. Cannot be stored for a long time.
Russian Pickled Cherry Tomatoes
In sterilized jars put garlic and dill. Wash strong ripe Cherry tomatoes and pack in jars. Fill jars with hot juice (1 Tablespoon salt to 1 liter of water) Cover with sterilized lids.
Place in pot with hot water, sterilize for 5 to 7 min. (counting from when the water boils.) Put jars upside down, cover with a towel and leave till cool.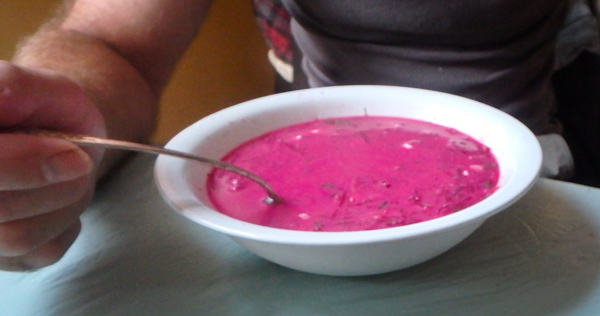 This is some Cold Borscht I made this summer. When you add a dollop of sour cream, it turns a pretty pink.
Russian Red Borscht Cold Soup
Now you can't can this recipe. I just put it here, so I wouldn't ever lose it!
Here's how I make cold Borscht, which is a great cold summer soup.
I cook some beets, cool them, peel them, and grate into a bowl.
Then add some chopped meat, like ham or chicken.
Then dice up a cooled cooked potato and add it, and dice a couple hard boiled eggs, and add them.
Then, chop up a cucumber, (or dill pickles) and add.
Then add more cooled water,(about a quart, or so.) and salt to taste.
Stir it up, and let chill for about an hour so the flavors will mingle.
To serve, ladle into bowls, add a dollop of sour cream, and sprinkle chopped dill on top. Yum!
Also see: Russian Salt Pickles Recipes
And how our friends made Kombucha Tea
---