Home
>>
Canning Recipes
>> Salt Pickles
Salt Pickle Recipes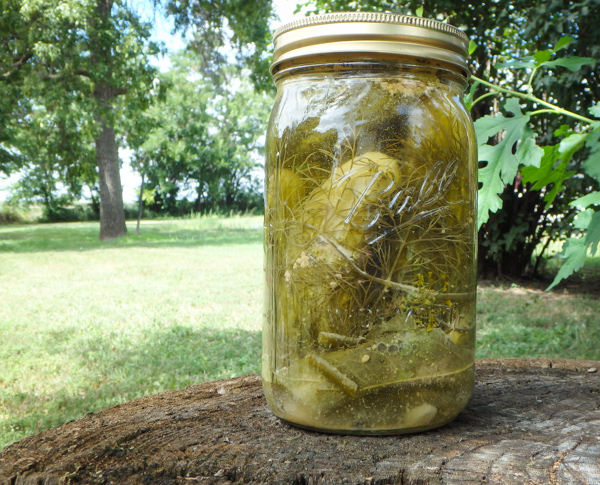 Salt Pickles are so good. On this page you'll find vintage recipes for making Salt Pickles. I'll start out the page with the Russian recipe I've been using this summer, and add other salt pickle recipes as I run across them. I also added the Crock pickles recipe I used a couple of years ago, when we had an abundance of cucumbers.
Russian Salt Pickles
A gallon jar or 2 half gallon jars
Fresh cukes (any size) Wash and put in cold water 6 to 8 hrs, or overnight.
Dill head and stems - carefully wash
Horseradish leaves (2)
Leaves from a cherry tree (4)
Leaves from a black currant (4)
A few cloves of garlic (6)
Salt and mustard powder
A few peppercorns
Ice cold water
Clean a large jar. (I used a gallon jar).
Wash your leaves, and put the horseradish leaves on the bottom, add some dill, add a couple peppercorns, add 2 currant leaves, add 2 cherry leaves.
Add 3 cloves garlic (sliced in half per gallon)
Add a bottom layer of washed whole cukes, pack biggest cukes in first.
Then put dill and more leaves on top, and the other 3 garlic.
Then put a layer of smaller cukes on top to fill the jar.
Add more greens on top, but NO garlic.
Mix 2 T mustard powder and 3 T salt in a small bowl or jar, and add cold water. Stir it up.
Pour it into your gallon jar over the cukes, and then top off your jar with ice water.
Put the lid on, and carefully shake it all up. Do not seal. the lid needs to be loose, or you will have to burp it after a couple of days.
Leave in your kitchen overnight, then store in a cool place in the morning. (I put it in the basement)
Done in 3 weeks. (Then I put it in the fridge)
My Note: This is an easy way to use up a lot of cukes. You need at least 20 for a gallon jar. This recipe can also be halved. Then just use half the ingredients. If you don't have all the leaves mentioned, that's okay, or if you have grape leaves then add them too. (I was lucky to have all the leaves mentioned in my yard this year.) These salt pickles come out tasty and crispy. Don't be concerned if the water is not clear, the mustard will settle to the bottom.
Update: Maybe it's my imagination, but it seems after 3 weeks the salt pickles are perfect, but after sitting in the juice for an extra 2 weeks, they seem more sour. I dumped the juice out of my pickles today to see if it will stop them from getting too sour and put them in the fridge.
Update 2: So, I guess it's just my imagination. I took a jar of salt pickles to a pot luck this week, and they ate every single one of them. They loved them. I also discovered that if you blend your mustard powder with the salt before adding the water, then the water won't be foggy. I have also been making these 1 quart at a time here lately, using 1 T salt, to 3/4 T mustard powder, but last week I did a "crock" of them.
Vintage Salt Pickles
1. Little, strong cukes (same size) Wash and put in cold water 6 to 8 hrs.
2. Root and leaf of horseradish
3. Dill - carefully wash
4. Peel Garlic and cut in big pieces
5. Put spices in sterilized jars, then vertically place the cukes, horseradish and dill and garlic)
6. In each jar put 1 tablespoon 9% vinegar
7. Fill jars with filtered boiling water and 1 tablespoon salt
8. Cover jars with lids, seal without sterilizing
9. Put jars upside down and leave till totally cool.
10. Store in refrigerator.
Crock Pickles
8 cups of water
1 cup white vinegar
1/2 cup pickling salt
Cucumbers, soak overnight in cold water.
6 peeled garlic cloves
6 Dill head and stems
2 T pickling spices
2 small hot peppers (optional)
Clean your crock, then wipe down the inside with vodka to sterilize.
Add the water, then add the vinegar, then add the salt, and use a wooden spoon to stir it up.
Add the spices, dill, peppers, and garlic.
Drain your cukes and add them to the crock. The cukes will float, so add a plate on top and weigh it down with a jar of water.
They are ready to eat after 7 days.
My Note: If you leave them in the crock, and the area where it's at, is not cool enough, you will have to spoon off some scum every week. The scum will not hurt you, just rinse your pickles off before serving. Sometimes I add more cukes, after I remove some. You can tell which ones are the oldest in the crock by their color. But after a couple weeks, it's best to refresh your crock juice, or make a new batch with new cukes.
I also like to store them in jars in the refrigerator with some of the juice.
Also see this recipe called: Dills in a Pail - You pack your cucumbers in a 5 quart ice cream pail.
Home Canning recipes
Canning Recipes Index
Canning Dill Pickles
Canning Grapes and Grape Juice
Canning Red Tomatoes Recipes
Canning Jams, and Preserves
Canning Jellies and Marmalades
Canning Fruit Recipes
Pickled Vegetable Recipes
Canning Relishes
Canned Sweet Pickles and Refrigerator Pickle Recipes
Russian Salt Cabbage and other Recipes
---