Home
>>
Bakery Recipes
>> Easy Breads
Easy Yeast Breads Recipes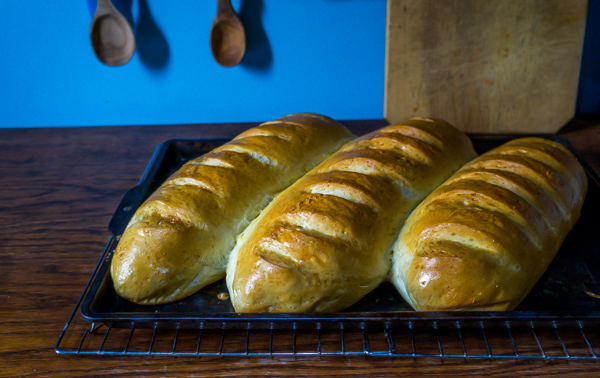 On this page are recipes I've gathered for making Easy Breads. I'm really not a fan of kneading, even though I will if I have to. So below is some basic bread making recipes, and recipes for rolls, but almost all of them have yeast in them.
How to get your kids to eat their bread crust.
This is a trick that comes from my mom. When your toddlers are eating everything but the crust, then this is what my mom did. She would take the long strips of crust, and holding it on the table, began to wrap it in a circle, until it looked just like a cinnamon roll. Then she added a dab of butter or jelly on it and handed it back to us to eat, which we did, every time.
The recipes below for making quick breads and rolls are probably my favorite for dinner, and even making breakfast biscuits, along with the page on Fried Doughs. Also see Easy Banana Bread and Bread in a Jar for gift giving
My Easy Yeast Bread
Makes 3 loaves
4 1/2 to 5 cups white flour
4 tsp yeast
2 tsp sugar
2 cups lukewarm water
1 Tblsp oil
2 tsp salt
Put 2 cups of flour in a bowl. Make a well in the middle. Put the yeast and the sugar in the well. Pour warm water over. Mix slightly. Cover with a cloth, and put in a warm place 15 minutes.
Add 2 more cups flour to the bowl, adding the salt and oil. Knead until it's a smooth elastic dough, adding more flour as necessary.
Put back in the bowl, cover with a cloth, and put in a warm place for 15 minutes.
Knead out large air bubbles, form into 3 loaves, and place on a lightly greased baking sheet. Score the top with a knife if desired.
Cover and put in a warm place for 15 min. Then beat an egg, and brush it on the top, and sprinkle some sesame seeds if desired.
Put loaves in a COLD oven on 375°. Bake 30 to 35 minutes until golden brown. Move to a wire rack to cool.
My Note: This recipe is a type of Greek Farmer's Bread. But something was lost in the translation, so the recipe above is what I figured out. I like it because it takes 2 hours to make from start to finish, and makes 3 loaves. My picture above is exactly how it turns out. I have not bought any white bread for a year now.
Update 9-24-15: I made this again yesterday, but as an experiment added a small egg. Doing that totally changed the texture of the bread to a sandwich bread. It is so awesome, but you have to wait till the next day to fully appreciate it.
Makes 2 loaves
Coolrise Bread
Dissolve 2 pkg. yeast in 1/2 cup warm water in a large bowl.
Add 1 3/4 cups warm milk
2 Tblsp. sugar
1 Tblsp salt, and 3 tbsp. oleo
Stir in 2 cups flour. Beat 1 minute.
Add 1 cup flour and beat vigorously 150 strokes.
Gradually stir in more flour, about 2 1/2 to 3 cups to make a soft dough.
Turn out on a floured board and knead until smooth and elastic.
Cover and let rest 20 minutes. Makes 2 loaves.
Place in loaf pans greased well. Cover lightly and place in refrigerator 2 to 4 hrs.
When ready to bake remove from refrigerator and leave set at room temperature for at least 10 minutes. Then bake at 400 for 30 to 40 minutes.
History: This is a recipe taken from a Fleischmann's package and my mother would make up these and roll them out and make cinnamon rolls out of this. We would have these hot for breakfast.
White Honey Bread
Makes one loaf
Dissolve yeast:
in 1/4 cup warm water
1/2 tsp honey
2 tsp yeast

Mix well:
1 cup warm milk
1 1/2 tbsp melted shortening
1 1/2 tbsp honey
1 1/2 tsp salt
1 cup flour
Add yeast to milk mixture. Add enough flour (1 cup at a time) to make soft dough. Turn onto lightly floured surface and knead until smooth and elastic (about 10-12 minutes). Place in lightly greased cookie sheet and cover. Allow to double in size.
Punch down and knead five minutes. Shape into loaf. Cover and let rise until double. Bake for 30-35 minutes in a 350 degree oven.
Tip: You can use a proofing oven. Place a shallow pan with about 1/2 inch of water into the oven. Preheat to 200. Turn it off and put dough into the oven. Will double in about ten minutes.
Amish Bread
Makes 5 loaves
3/4 c. sugar
5 1/5 c. water
3 T. Red Star yeast
3/4 c. oil
4 tsp. salt
Approx. 16 c. flour
Mix warm water, yeast and sugar, then let set until yeast is dissolved. Add salt and oil. Work in flour 2 cups at a time. Knead until it isn't sticky anymore. Cover, let rise 1/2 hour. Bake at 350 for 30 to 45 min.
Amish Recipe book
Here's a recipe for bread from 1964. It makes a lot, and rises twice.
This is the easiest rye bread recipe I have found, and I make it at least once a month. Sometimes I put that 3rd loaf in a loaf pan to make a square loaf. It's just too bad I can't fit all 3 of these round loaves in the oven at the same time. I'll try a French style loaf next time.
My Easy Rye Bread
Makes 3 round loaves
2 cups rye flour
3/4 cup dark syrup (I used molasses)
1/2 cup shortening
2 tsp. salt
2 cups boiling water
1 pkg. yeast (or 2 1/2 tsp. yeast)
1/4 cup warm water
7 cups flour
Put rye flour, syrup, shortening, and salt in a large bowl and add the boiling water. Stir until smooth and let cool to lukewarm.
Dissolve yeast in the warm water and add to the cooled batter. Then stir in 3 cups of white flour.
Put 2 cups of white flour on a bread board, and pour the batter in the center. Mix until the dough doesn't stick to your hands. (Add a little more flour if nessary, but not too much. The more flour you add, the denser your loaves will be, and will take longer to rise.)
Form into a ball and put back into your bowl, and cover it, and put it in a warm place for 40 min.
After it has doubled in size, take dough out of the bowl and press the large bubbles out of it, and form 3 round loaves, and place on 2 cookie sheets. Let rise 1 hr.
Preheat your oven to 375 and bake 2 loaves for 35-40 min. Then put your 3rd loaf in to bake.
Recipe from an Armour SD church cookbook.
Tip: Do not try to add a lot of flour to get rid of the stickiness of the dough. It's impossible. That is the way rye bread dough is. You can't add enough flour to get rid of the stickiness. Just add enough so it's not sticking to your hands.
We like Rye Bread better than wheat bread. It's soft and fluffy and flavorful. I generally put 2 loaves in the freezer. It freezes well, and when I take it out, it tastes the same as the day I put it in. I also use this Rye Bread to make the Russian Kvas.
Potato Bread
2 cups warm milk
1 cup mashed potatoes
1/2 cup sugar (or less)
1/2 cup shortening
2 eggs
Salt
2 yeast cakes
8 cups flour (approx)
Cream sugar and shortening together. Add well beaten eggs, milk, and mashed potatoes. Dissolve yeast in 1/2 cup warm water and add to sugar mixture. Add enough flour to form soft dough and mix well. Let rise overnight. (or make early in the morning and bake in the late afternoon or evening). Bake in moderate oven (375-400).
Focaccia (Italian Bread)
Makes a 12 inch round loaf
1 c. water
1/2 tsp salt
1 tsp. olive oil
Garlic salt
1/4 tsp. sugar
2 tsp. yeast
2 1/2 c. flour
Mix sugar, salt, yeast, and flour. Make well in bowl, drizzle in 1/2 cup water, drizzle in olive oil, and drizzle in rest of water or until dough forms a ball. Knead; add flour or water to get the correct consistency. Let dough rise until doubled. Smash down to an approximate 12 inch round loaf on a lightly greased pizza pan; brush top lightly with olive oil and sprinkle with garlic salt or other seasoning. Bake at 400 for 30 minutes.
- This recipe for Bobka sounds great!
- Here's a recipe for making French Bread and here's a recipe for making an easy Garlic French Bread.
Recipes for Batter Breads
Beer Bread
3 cups self rising flour
12 oz beer
3 Tbsp. sugar (or 1 Tbsp. honey)
2 Tbsp. butter, melted
Mix flour, sugar, and beer. Bake at 350 for 40 to 45 minutes. Immediately pour butter over top
Flour, self-rising - 1 cup = 1 cup minus 2 teaspoons flour plus 1-1/2 teaspoons baking powder and 1/2 teaspoon salt
My Note: The first time I made this, it seemed it didn't have enough salt in it. So the next time I made it, I added more salt. This bread is my "quickie" bread, which is what I make when I'm totally out of bread and desperate. A light beer seems to work better and it's not so yeasty tasting. But, nowadays, I don't have any beer in the house.
Also see this recipe for Speedy Beer Bread
Batter Bread
1 1/4 c. warm water
1 pkg. yeast
2 tsp. salt
2 Tbsp. sugar
3 c. flour
Dissolve yeast, then stir in all ingredients, except half of the flour; beat 2 minutes. Then stir in rest of flour with a spoon. Let rise 30 minutes. Punch down and put in pans. Let rise and put in oven at 375 degrees for 40 to 50 minutes.
My Note: I made this a couple of times, and it turns out pretty good. The top of the bread does not turn out pretty though, because of it being a batter. Yes, I'd make it again, but I don't like the double rise, because my kitchen is generally cool during the winter.
Sourdough Bread Starter Recipe
1 package active dry yeast
2 1/4 cups lukewarm water
2 cups all-purpose flour
Mix the yeast and 1/4 cup of the water. Add the rest of the water and flour, stirring with a fork just until blended. Cover the container loosely with a clean cloth, so that the mixture can interact with the yeast that floats in the air. Set the container in a warm spot (70 to 80 degrees) for 24 hours. The mixture will bubble and have a sour, yeasty smell to it. If it turns orange at any time, discard it.
Recipe for Breadsticks
Breadsticks
1 tbsp. dry yeast
1 tsp salt
1 tbsp. milk powder
1 1/2 cups warm water
1 tbsp. honey
4 cups flour
In mixing bowl or Kitchen Aid mixer, dissolve yeast in warm water. Stir in milk powder, honey and salt. Add flour gradually, mixing until dough forms a ball. Should be soft dough. Don't add too much flour. With floured hands, divide dough into golf ball sized pieces and roll into 6 inch ropes. Spray Pam onto cookie sheet and brush ropes with melted butter. Sprinkle with canned Parmesan cheese and Salad Supreme. Allow to rise 15-30 minutes. Bake at 400 for 10-12 minutes.
Never Fail Rolls
2 pkg dry yeast
4 cups flour
1/3 cup oil
1 1/2 tsp salt
1 1/2 cups very warm water
1/4 cup sugar
1 egg
Dissolve yeast in warm water and let stand for 10 minutes before stirring. Add 2 cups flour and other ingredients. With mixer blend at low speed, then beat 2 minutes. Beat in other 2 cups flour by hand. Cover and let rise until doubled (30 to 40) minutes). Stir down batter to deflate. Spoon into greased muffin tins and let rise again. Bake at 425 10 minutes or until done.
Recipe from a 1968 Cookbook
Quick Dinner Rolls
1 pkg dry yeast
1 c. warm water
1/4 c. melted oleo
1/4 c. sugar
1 egg
1 tsp salt
2 1/2 tsp. baking powder
3 1/2 c. flour
Make a stiff dough. Roll out and cut into any shape. Place on a well greased baking sheet. Let rise 1 hr. Bake at 375 degrees for 20 to 25 minutes.
Recipe from a 1968 church cookbook
Mayonnaise Rolls
1 c. self rising flour
1/2 c. buttermilk
2 Tbsp. mayonnaise
Combine all ingredients, blending well. Drop by teaspoon onto lightly greased cookie sheet. Bake at 425 for 10 to 12 minutes. Makes 8 to 10 rolls.
Here's recipes for breads that bake in a can
HOBO Bread
2 c. raisins
2 c. boiling water
4 tsp. soda
1/2 c. salad oil
1 1/2 c. sugar
pinch salt
2 eggs
4 c. flour
1 c. black walnuts
Soak raisins in water and soda overnight. Mix all other ingredients the next day into it. Pour into a well greased 3 - 1lb coffee cans, dividing batter into equal parts. Bake at 350 for 1 hour
Recipe from 1968 church cookbook
My Note: I like Boston Brown Bread. The problem is I can't find one pound coffee cans anymore.
- Also see this Round Raisin Nut Bread, it bakes in cans too.
- Here's a simple easy recipe for Boston Brown Bread It says you can use three mini pans too.
- Here's another recipe for Boston Brown Bread.
Recipes for Popovers!
Pop-overs
1 cup flour
7/8 cup milk
1/4 teaspoon salt
2 eggs
1/2 teaspoon melted butter
Mix salt and flour; add milk gradually, in order to obtain a smooth batter. Add egg, beaten until light, and butter; beat two minutes, using egg-beater, then turn into hissing hot buttered iron gem pans, and bake thirty to thirty-five minutes in hot oven. They may be baked in buttered earthen cups, when the bottom will have a glazed appearance. Small round iron gem pans are best for Pop-overs.
Recipe from a Fanny Farmer 1893 Cookbook
Graham Popovers
2/3 cup wheat flour
7/8 cup milk
1/3 cup flour
1 egg
1/4 teaspoon salt
1/2 teaspoon melted butter
Mix salt and flour; add milk gradually, in order to obtain a smooth batter. Add egg, beaten until light, and butter; beat two minutes, using egg-beater, then turn into hissing hot buttered iron gem pans, and bake thirty to thirty-five minutes in hot oven. They may be baked in buttered earthen cups, when the bottom will have a glazed appearance. Small round iron gem pans are best for Pop-overs.
Recipe from a Fanny Farmer 1893 Cookbook
Blender Popovers
1 cup milk
3 eggs
2 1/2 teaspoons butter
1/2 teaspoon salt
1 cup flour, sifted
Put all ingredients into blender. Cover. Press button 6 for 25 seconds. Stop motor to push down with a spatula if necessary. Pour into greased muffin pans. Bake in a preheated 400 oven for 40 minutes and another 5 minutes if needed. Serve hot.
Recipe from a 1970 Cookbook
Other Bread Recipe Pages
Food for Thought:
BREAD... The Very Staff of Life, The Comfort of the Husband, and the Pride of the Wife.
from the Davison County, SD recipe book
---