Home
>>
Dinner Recipes
>> Eggrolls
How to Make Homemade Egg Rolls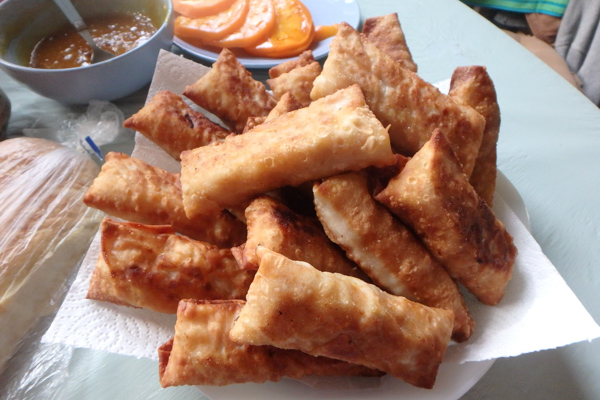 The nice thing about making homemade eggrolls, is that you can buy the egg roll wrappers for a pretty reasonable price, instead of making them all by hand like I use to. But if you don't have access to purchasing such a luxury, then here's how you do it.
The sauce in the dish is sort of a quickie Duck Sauce. I mixed 2 tsp. of Dijon mustard with a half jar of Apricot Jam.
Homemade Egg Rolls
I used an eight inch iron skillet that worked out perfectly. But any small eight inch Teflon coated pan will do. It's a process of making the wrappers, and then making the filling. So it's pretty much a 2 hour job, but they are so good, and believe me 12 is not enough.
HOMEMADE WRAPPERS
4 eggs
1 cup flour
1 teaspoon salt
1 cup water
Beat eggs, save 2 tablespoons in a small bowl.
Add salt, then flour, beat until smooth by hand or with a mixer.
Gradually add water while mixing. Needs to be lump free.

Lightly grease a 7 inch skillet and heat over medium heat.
Pour in 1/4 cup of batter, and swirl to cover bottom of pan.
Cook over medium heat until batter is set.
Remove with fork or spatula to a clean counter top, and let cool.
You should have 12 pancakes.
FILLING
1 medium cabbage grated
1/2 lb turkey ham chopped
1 grated carrot
1 teaspoon sugar
1 teaspoon salt
Put a mound of filling, 1/4 cup on each pancake.
Use the 2 tablespoons of egg you saved as glue.
Fold the two sides over the top first, then dip your fingers in the egg, and put on the sides.
Pick up the bottom nearest you and pull it over the middle, to cover the sides and add more egg.
Then gently flip the egg roll over and let it set.
-Once you have all 12 done, heat a 1/2 inch of oil in a skillet on Medium High heat.
-Carefully pickup each egg roll with a spatula and place in the heated oil. In a few minutes it will be browned on one side.
-Carefully turn it to brown the other side with 2 forks.
-Then remove when done with a spatula. Place on paper towels.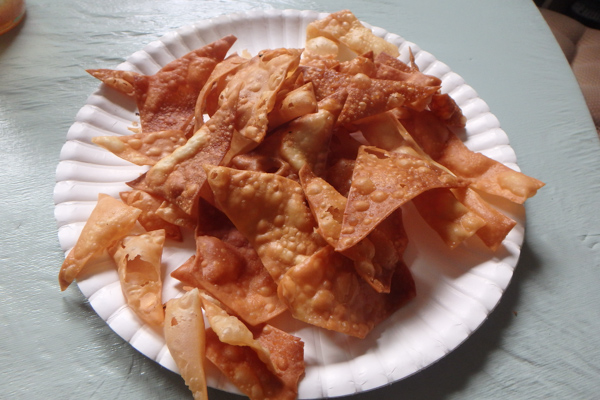 If you do buy the egg roll wrappers, but run out of filling, you can slice and deep fry the leftover wrappers. It turns them into tasty little crunchies. So, I call them Eggroll Crunchies.
Mini Egg Rolls
Chop 1-1/2 to 2 lbs Chinese cabbage fine.
-Cook chopped cabbage in boiling water until almost tender. Drain very well.


Chop 1/2 lb pork fine.
Soy sauce
Salt
-Cook pork with soy sauce and salt in oil. Do not use butter to cook pork.


2 oz. cooked shrimp
1/2 bunch green onions

-In a large pot, combine drained cabbage, cooked pork, cooked shrimp, and chopped green onions. Mix well.


1/4 tsp. black pepper
1/4 tsp. garlic powder
1/4 tsp Accent
2 tbsp. peanut butter
1/8 tsp. sugar
-Add black pepper, garlic powder, Accent, sugar and peanut butter. Mix thoroughly.


1 lb. egg roll skins
-Place some of the filling on the egg roll skin and roll. Seal with beaten egg. Fry egg rolls in hot oil until golden brown. Take out of oil and drain on paper towels.
Note: For egg rolls that are to be served at a later time or to freeze, fry egg rolls in hot oil until a pale brown color. Drain and cool. Place in plastic bags when cool. Freeze.
To reheat egg rolls: Thaw egg rolls and fry in hot oil until golden brown.
This recipe makes about 60 mini egg rolls
On the egg roll wrappers package, this is how they say you roll egg rolls in the wrap. In my opinion, their picture is upside down. They want you to roll the egg roll toward you, but I roll the egg roll away from me.
Egg Rolls
2 cups thin cut celery
1 onion, diced
1 cup any kind of meat
any other vegetable can be added as tomato, squash cubes, mushrooms, Chinese vegetables.
-Cook until tender but not soft in 1/4 stick margarine, 2 tablespoons soy sauce and 1/4 tsp. ginger.
-When cooked, remove from stove. Turn in 2 cups slivered lettuce. Stuff skins immediately.
Place ingredients in center of skin.
Turn one corner over. Brush fold with water.
Turn 2 more corners in and again brush with water.
Roll closed. It takes a little practise.
-Deep fry until crunchy. Use mustard or sweet and sour sauce, which is 1/2 cup vinegar, 1/2 cup water, 5 Tblsp. sugar and tablespoon cornstarch brought to a boil. Makes 10 eggrolls.
Recipe from a Booneville, IN recipebook pg 91
My Note: This recipe uses lettuce instead of cabbage. I need to try this! Maybe this is what they call a Spring Roll?
More Recipes
Food for Thought:
"There's no limit to what you can achieve if you don't mind who gets the credit."
---