Home
>>
Bakery
>> Graham Crackers
Make Graham Crackers and Vanilla Wafers
Who has a box of Graham Crackers in their pantry? I sure do, and I'm always looking for ways to use them. So, on this page are some things you can make with Graham Crackers.
When I was little my mother use to make vanilla icing and spread it on a broke in half cracker for some quick treats. I still make these today.
Of course, S'mores are very popular, and easy to make, but generally I save my Graham Crackers to make a crust for a No Bake Cheesecake or for a Banana Pudding.
Also see the Pan and Bar Cookies recipes to find out what else you can make with Graham Crackers.
The recipe below, for making your own Graham Crackers, I've had for many years, but have never actually had to make them.
How to Make Graham Crackers
2 cups whole wheat flour
1 cup flour
1 tsp. baking powder
1/2 tsp. soda
1/4 tsp. salt
1/2 cup shortening
3/4 cup brown sugar
1 tsp. vanilla
1 1/4 cup milk ? (Add milk until it makes a dough)
Cream shortening and sugar. Mix dry ingredients. Add vanilla. Add flour mixture alternately with milk. Mix well after each addition. Chill dough until firm, several hours or overnight. Divide dough into thirds. Roll out each portion on floured surface to rectangle 1/8 inch thick. Trim to 5 x 15 in rectangle. Cut into 6 - 2 1/2 x 5 inch rectangles.
Make a line down the center of the dough with the back edge of a knife. Place on greased baking sheets. Mark each square with prongs of a fork. Bake at 350 10 - 12 minutes or until crisp and edges are browned. Remove immediately from baking sheets and cool on wire racks.
Graham Cracker Pie
3 cups graham cracker crumbs
3 cups applesauce
Put a layer of crumbs on bottom and sides of a greased pan. Add a layer of applesauce and a layer of crumbs. Continue alternating layers until all the ingredients are use, having a layer of crumbs on top. Sprinkle applesauce layers with sugar if desired. Chill. Remove from pie plate if desired. Cut as if it's a baked pie.
How to Make a Graham Cracker Crust
2 cups graham cracker crumbs
1/2 stick butter
2 Tablespoons sugar
Blend ingredients spread in a 9 inch pan. Slightly press. Bake for 7 minutes at 375°.
Victory Brownies
20 graham crackers crushed
1 can condensed milk
1/2 cup chopped nuts
1/2 cup coconut
1/2 cup chocolate bits
Mix well altogether. Bake in a moderate oven, 350 F. for 25 minutes in a well greased pan, 8x8x2. When cool, cut into small squares and roll in confectioners sugar.
Recipe from 1963
My Note: I made these for Christmas 2011, and was real happy with the way they turned out. They are pretty sweet though, so rolling them in powdered sugar should be optional.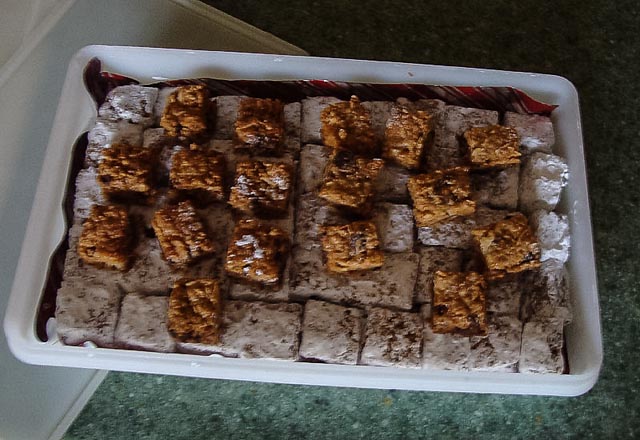 Graham Cracker Cake
Blender grate 1 cup nut meats and empty into mixing bowl.
Blender crumb 27 graham crackers, 6 at a time, to make 2 cups crumbs, and empty into bowl with nuts.
Stir in 2 tablespoons flour, 1/4 tsp salt, and 2 teaspoons baking powder.

Into blender container put:

1/2 cup shortening or soft butter
1 cup sugar
3 eggs
Cover and blend on low speed for 20 seconds. Motor on, gradually add 3/4 cup milk. Pour into dry ingredients and stir until mixed. Pour into two 8 inch greased layer-cake pans and bake in a preheated 350 F oven for 30 minutes. Let cool for 10 minutes, then turn out on rack. When thoroughly cool, put together and frost with whipped cream or your favorite frosting.
Recipe from 1961
Graham Cracker Bars
Graham crackers
1 1/2 cup butter or margarine
1/2 c. milk
1 c. brown sugar, packed
1 c. coconut
1 c. crushed graham crackers
Line greased 9x13 inch pan with whole graham crackers. In saucepan combine butter, milk and brown sugar. Bring to a boil and add coconut and cracker crumbs. Cook over low heat until thick, 5 minutes. Spread over crackers and cover with whole crackers. Ice with powdered sugar icing. Chill 8 hours, cut in squares.
Hello Dolly Cake
1 stick butter
1 cup graham cracker crumbs
1 cup coconut
1 cup chocolate bits
1 can Eagle Brand condensed sweet milk
Melt butter in pan and add ingredients as layers. Bake at 350 for 30 minutes. recipe 1982 cookbook
Here's another Hello Dolly cake that uses graham crackers
How to Make Vanilla Wafers
1/3 cup butter and shortening in equal proportions
1/4 cup milk
2 cups flour
1 cup sugar
2 teaspoons baking powder
1 egg
1/2 teaspoon salt
2 teaspoons vanilla
Cream the butter, add sugar, egg well beaten, milk, and vanilla. Mix and sift dry ingredients and add to first mixture. Chill thoroughly. Toss one-fourth of mixture on a floured board and roll as thinly as possible; shape with a small round cutter, first dipped in flour. Place near together on a buttered sheet and bake in a moderate oven. Gather up the trimmings and roll with another portion of dough. During rolling, the bowl containing mixture should be kept in a cool place, or it will be necessary to add more flour to dough, which makes cookies hard rather than crisp and short.
Vanilla Wafers 2
1/2 cup soft butter or margarine
1/2 cup shortening
2/3 cup sugar
2 tsp. vanilla
1 tsp. salt
2 eggs
2 3/4 cups sifted all purpose flour
Cream together butter, shortening, and sugar until fluffy. Add vanilla and salt. Add eggs, one at a time, beating well after each. Stir in flour. Mix well. Drop from teaspoon onto greased cooky sheet. Flatten with a flat bottomed glass. Bake at 375 for 8 to 10 minutes or until delicately browned on edges. Remove immediately from pan. Makes 7 dozen.
Recipe from 1963
How to Make Ice Cream Cones
1 egg
1/2 cup sugar
1/4 cup butter
1 tsp almond or vanilla extract
2/3 cup flour
1/8 tsp salt
1/3 cup milk
In a medium bowl beat the egg slightly, add sugar, butter, and extract. Mix well. Lightly spoon flour in measuring cup, level off. Stir in flour and salt. Add milk, stir until well blended.
Heat ungreased non stick skillet to 350 - med high heat. Using a 1/4 measuring cup, fill half full with batter. Pour into skillet quickly and gently spread batter to a 6 inch circle. Fry until deep golden brown in center, 1 to 3 min. Turn and brown other side. Remove from skillet and immediately wrap around a cone shape form, making sure bottom is closed. Cool Completely.
Cooking Tip: Make cone out of several layers of foil if desired.
Also see: How to make Crackers
---