Home
>>
Seafood Recipes
>> Lobster Recipes
Easy Lobster Recipes
Who doesn't like lobster? If you need to know how to cook lobster, check out this website.
Cooking Live Lobster
Lobster Newburg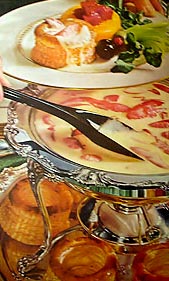 Lush eating! Make it your specialty. Make it for an anniversary party buffet, or New Year's Eve, and you will never be forgotten. Perfect to celebrate Silver Anniversaries.
1/3 cup butter or margarine
2 tablespoons all purpose flour
2 cups light cream or half and half
4 slightly beaten egg yolks
2 5oz cans or 2 cups of lobster cubed
1/4 cup cooking sherry
2 teaspoons of lemon juice
1/4 teaspoon of salt
6 pattie shells or toast
Melt butter in a chafing dish or skillet; blend in flour, gradually stir in cream. Cook slowly, stirring constantly, until sauce thickens. Stir small amount of sauce into the egg yolks; return to hot mixture and cook, stirring constantly, 1 minute.
Add cubed lobster, cooking sherry, lemon juice, and salt; heat through, stirring constantly - don't boil! Serve in crisp pattie shells or over toast point. Sprinkle with paprika. Makes 6 servings.Recipe from a 1963 cookbook
Creamed Lobster on Toast
2 cups canned lobster
1 cup canned peas (small can)
1 small onion finely chopped
3 tablespoons butter
3 tablespoons flour
2 cups milk
Salt and pepper to taste
Melt butter in the top of a double boiler. Add salt, onion, pepper, and flour. Blend thoroughly. Add milk. Stir constantly until thick. Cover and cook 15 minutes. Add lobster and peas. Serve hot on toast points. Serves six.
Recipe from a 1963 recipebook
Lobster Salad I
Remove lobster meat from shell, cut in one-half inch cubes, and marinate with a French Dressing.
Mix with a small quantity of Mayonnaise Dressing and arrange in nests of lettuce leaves.
Put a spoonful of Mayonnaise on each, and sprinkle with lobster coral rubbed through a fine sieve.
Garnish with small lobster claws around outside of dish. Cream Dressing I or II may be used in place of Mayonnaise Dressing.
Lobster Salad II
Prepare lobster as for Lobster Salad I.
Add an equal quantity of celery cut in small pieces, kept one hour in cold or ice water, then drained and dried in a towel.
Moisten with any cream or oil dressing. Arrange on a salad dish, pile slightly in centre, cover with dressing, sprinkle with lobster coral forced through a fine sieve, and garnish with a border of curled celery and watercress.
Lobster Canapes
Finely chop lobster meat and and add equal amounts of finely mashed hard boiled egg yolks.
Moisten with melted butter and heavy cream using equal parts.
Season with salt and pepper, cayenne, German mustard, and beef extract.
Spread on sauted circular sliced bread and garnish with the white of the hard boiled eggs sliced and lobster coral forced through a sieve. From old church recipebook 1963
More Seafood recipes
---