Home
>>
Seafood Recipes
>> Oyster Recipes
Easy Oyster Recipes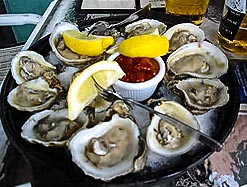 A lot of people don't like oysters on the half shell, but I do, not with lemon though, but with Tabasco and crackers.
On this page are more ways to fix oysters, including Fried Oysters in Batter.
If you love oysters, you love the recipe for Easy Deviled Oysters. Try some for your next party, or use as an appetizer.
Also see this page in the Fannie Farmer Cookbook for more ways to serve and cook oysters. Such as Oven Fried Oysters, Oyster Fricassee, Oysters Algonquin, Panned Oysters, and Oysters in Sherry Cream.
Fried Oysters in Batter
1 pint oysters
1/4 cup oyster liquid
1/4 cup milk
2 beaten eggs
1 teaspoon salt
1/4 tsp. pepper
1 cup flour
1/2 tsp. baking powder
Pick over oysters, and remove shell fragments. Dry between towels. Mix oyster liquid, milk, eggs, salt, and pepper. Mix and sift flour and baking powder, and add to first mixture. Beat thoroughly. Dip oysters in batter. Fry in deep hot fat (375 F) 4 to 6 minutes. Drain on unglazed paper. Serves 4.
Recipe from 1953
Broiled Oysters
Dry 24 oysters between towels. Heat broiler and grease well. Dip oysters in melted butter, then in dried bread crumbs, and arrange on broiler. Broil about 3 minutes.
Have ready 6 slices of toast, cut in uniform pieces. Moisten toast with hot oyster juice. Place 4 broiled oysters on each slice of toast and season with salt and pepper, and a few drops of lemon juice. Serves 6.
Deviled Oysters 1
1 pint oysters
1/4 cup butter
1/4 cup flour
1 cup milk
1 egg yolk
1/2 tablespoon chopped parsley
1/2 teaspoon salt
Few grains of cayenne
1 teaspoon lemon juice
Buttered cracker crumbs
Clean and drain oysters. Make a sauce of butter, flour and milk. Add egg yolk and seasonings and oysters. Arrange buttered scallop shells in a dripping pan, and half fill with a them with mixture. Cover with buttered crumbs. Bake in hot oven from 12 to 15 minutes. (Deep oyster shells may be used.)
Recipe from a 1963 cookbook
Deviled Oysters 2
Chop:
1 pint shelled oysters.

Cook together 3 minutes.
3 shallots, chopped fine
1 tablespoon butter

Add:
3 tablespoons flour

Stir until well blended.
Add 1/2 cup milk and 1/4 cup cream

Bring to the boiling point, stirring to keep smooth. Add the chopped oysters.

Season with:
1/2 tsp. salt
1/8 tsp. nutmeg
Few grains cayenne
1/2 tablespoon Worcestershire sauce
3 chopped mushroom caps
1/2 teaspoon chopped parsley
Simmer 12 minutes. Stir in 1 egg yolk
Put the mixture in the deep halves of the oyster shells or in scallop shells
Cover with buttered crumbs
Bake 15 minutes at 400°. Serves 6 as a first course, 3 or 4 as a luncheon or supper dish.
Recipe from Fannie Farmer Cookbook
Oysters Casino
2 dozen freshly opened oysters
3 slices bacon
1/4 cup seasoned crumbs
2 Tblsp minced onion
2 Tblsp minced green pepper
2 Tblsp minced parsley
2 Tblsp minced celery
1 Tblsp butter
1 tsp Worcestershire sauce
Dash Tabasco
Paprika
Place 2 oysters in deep half of one shell. Repeat to fill 12 shells. Arrange shells on plastic try or paper plate.
Cook and crumble bacon. Combine with remaining ingredients and spoon over oysters. Cook in Radarange Oven 4 minutes. (microwave)
Sprinkle with paprika. Serve hot.
Micro tip: Custard cups may be substituted for oyster shells.
Recipe from a 1982 Radarange cookbook
Oyster Stew
1 7 1/2 oz can oysters
1 1/2 cups milk
1/2 cup cream
1/3 cup flour
4 tablespoons butter
1 1/2 teaspoons Worcestershire sauce
1/2 small onion, sliced
1 teaspoon salt
1 sprig of fresh parsley
Put all ingredients except oysters into a blender. Cover. Press button 13 for 20 seconds. Remove cover and add oysters and liquid in can. Cover. Press button 3 for 10 seconds, or until oysters or coarsely chopped. Pour mixture into saucepan and heat, stirring until thick and smooth.
Recipe from a 1970 cookbook
Oysters Louisiane
Parboil:
1 quart shelled oysters
Reserve the liquid and add Water to make 1 1/2 cups

Cook together 5 minutes:
3 tablespoons butter
2 tablespoons chopped red pepper
1/2 tablespoon chopped shallot

Stir in:
1/4 cup flour
Add the oyster liquid gradually, stirring constantly.

Bring to the boiling point and season with:
1/2 tsp. salt
1/8 tsp. paprika
Few grains cayenne

Put the oysters in large buttered scallop shells or in individual baking dishes. Cover with the sauce and sprinkle with 1/2 cup grated Parmesan cheese
Bake at 400 until thoroughly heated. Serves 6 to 8.
Oyster Soup
1 can cream of mushroom or celery soup
1 tsp. Worcestershire sauce
8 oz. can oysters and liquid
1 Tblsp margarine
1/2 can milk
Combine all ingredients, warm to taste. Clams can be substituted for oysters. Serve with saltines or oyster crackers.
Recipe from a 1995 church cookbook
Oysters Cape Cod
Drain, reserving the liquid:
1/2 pint shelled oysters

Sift together:
1 1/2 cups flour
3 teaspoons baking powder
1/2 teaspoon salt

Cut in:
1 tablespoon butter
Add the oysters and the oyster liquid, adding enough water if necessary to make about 1/3 cup. Spread in a buttered shallow pan. Over the top, arrange 8 pork sausages
Bake 30 minutes at 450, turning the sausages once to brown. Serves 4.
Scalloped Oysters
For a pleasantly subtle flavor, sprinkle each layer with a few gratings of nutmeg.
-Drain, reserving liquid 1 pint of shelled oysters
-Mix 1/2 cup bread crumbs, 1 cup cracker crumbs, 1/2 cup melted butter
-Put a thin layer in a shallow butted baking dish. Cover with half the oysters. Sprinkle with salt and pepper. Add 2 tablespoons oyster liquid or clam juice. Add 1 tablespoon milk or cream, repeat. Cover the top with the rest of the crumbs. Bake 30 minutes at 450°. Serves 4.
Recipe from a Fannie Farmer cookbook
Also see lobster recipes, crab recipes, and shrimp recipes
---