Home
>>
Fruit Recipes
>> Apples
Fresh Apple Recipes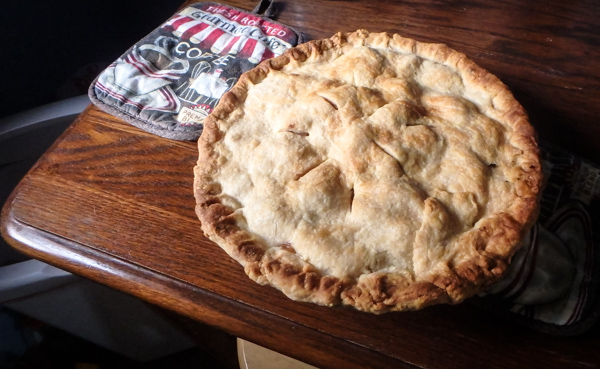 These delicious Apple Pie recipes are easy. Several are from my mother's and my recipe box. Also try the yummy Apple Pizza, which I got in the 1980's and is similar to an apple crumb pie, but you spread the crust on a pizza pan instead of a pie plate. Simple and delicious. Also see Applesauce recipes.
The tart green Granny Smith apples are generally used for pie baking, but sometimes I use the Winesap apples too, which are a favorite in our family. Yellow Delicious apples we like too, they are very flavorful and the skin is not so tough.
Also see a Deep Dish Apple Pie made with Bisquick
Candy Apples has moved to this page: Candy Apples
Apple Pie Tip
- If the juice from your apple pie runs over in the oven, shake some salt on it, which causes the juice to burn to a crisp so it can be removed.
Make a Homemade Apple Pie
Fresh Apple Pie
3/4 cup sugar
1 Tablespoon cornstarch
1 tsp ground cinnamon
6 cups sliced cored and peeled apples
1 Tablespoon lemon juice
1 Tablespoon butter
Pastry for 9 inch double crust Pie
Mix first 3 ingredients. Toss with apples and lemon juice. Place in pastry lined pie pan. Dot with margarine. Cover with top crust. Seal and flute edges. Cut slits in top. Bake at 425 50 min until browned.
Recipe is from my recipe box
Country Apple Pie 1953
1 Tblsp plus 1/2 tsp. sugar
1 1/4 tsp. nutmeg
6 cups apple slices
1 cup light brown sugar
2 Tblsp. flour
2 Tblsp. butter
1/4 to 1/2 cup cheddar cheese
-In a bowl mix apples, brown sugar, flour and 1 tsp nutmeg.
-Sprinkle bottom of pastry with 1 Tblsp sugar and the 1/4 tsp nutmeg.
-Mix the apples, brown sugar and flour; put in pie shell.
-Roll the second part of the pastry into a round and sprinkle with cheese. Fold in thirds and roll again to fit pie. Put dabs of butter on the apples, then press edges of pastry together. Sprinkle remaining 1/2 tsp. sugar on top. Make several slits. Bake at 425 for 40 min.
Recipe from 1953 Cookbook
Apple Pie 1941
4 cups sliced apples
1 cup sugar
1 Tablespoon butter
1 tsp cinnamon
1/4 tsp nutmeg
1 tsp lemon juice
Fill your pie crust shell with thinly sliced apples, and sprinkle with sugar, spices and lemon juice. Dot with butter. Moisten edge of crust with water. Roll remaining dough for top crust and cut a few slits to permit steam to escape. Fit top crust over apples and seal edges. Bake 45 to 50 minutes at 425°.
Recipe from a 1941 Cookbook
Also see Apple Pizza Recipes
Crustless Apple Pie 1982
1 c. sugar
1 tsp. cinnamon
3/4 c. flour
1/2 c. butter
1 qt. apples
Grease a pie tin. put apples in and top with mixture of sugar, cinnamon, flour and butter. put in oven at 350 for 25 minutes or until apples are tender.
Recipe from a 1982 Spencer, Iowa "Ladies in Pink" recipe book pg 58
Baked Apples 1953
On a large cookie sheet, place cored apples. Sprinkle with cinnamon and sugar. Bake upright for one hour at 325°. Serve warm.
Recipe from a 1953 Cookbook
Apple Bread 1963
2 cups flour
1/2 tsp. salt
1 tsp. soda
1 tsp. baking powder
1 cup sugar
2 eggs
1/2 cup butter
1 1/2 Tblsp sour milk
1 cup fresh apple peeled and chopped
Nuts if desired
Mix first 4 ingredients. Cream sugar and butter, add eggs and sour milk. Beat and add dry ingredients to it a 1/2 cup at a time. Add apples and nuts. Bake at 325 for 45 minutes. The recipe calls for an 8x8x2 in pan but I found for this size pan it had to be cooked a little longer. Just check it occasionally. The dough should be of a consistency of biscuit dough. You can use sweet milk, only use a teaspoon of vinegar as part of the 1 1/2 Tblsp of tart milk.
Recipe from 1963 Church Cookbook from Indiana
Here's a recipe for Coffee Apple Bread.
Make some Apple Brownies
Apple Brownies 1982
1 stick of butter
1 c. sugar
1 beaten egg
2 med. chopped apples
1/2 c. chopped nuts (optional)
1 c. flour
1/2 tsp. soda
1/2 tsp. baking powder
1/2 tsp. cinnamon
Cream butter and sugar. Add eggs, apples and nuts. Sift together flour, soda, baking powder and cinnamon; add to mixture. Pour into a greased brownie size pan, 8x8 inches or 7x11 inches and bake at 350 for 40 minutes. Cool in pan and cut into squares.
Recipe from a 1982 "Ladies in Pink" recipe book from Iowa pg 90
Apple Dip that tastes like caramel
Apple Dip
1 8oz pkg. cream cheese
3/4 c. brown sugar
1/4 c. honey (or white corn syrup)
1 tsp. vanilla
Chopped walnuts (or pecans)
Mix well. Keeps 2 weeks in refrigerator. Delicious with or without nuts.
Recipe From 1998 Platte SD Hospital Recipe book pg 1
Also see this page for other Fruit Dip Recipes.
Apple Dumplings
Syrup:
2 cups sugar
1/4 tsp. cinnamon
2 cups water
1/4 tsp. nutmeg
1/4 cup butter
Stir together. Heat on stove until butter melts. Crust:
2 cups flour
2 tsp. baking powder
1 tsp. salt
3/4 cups shortening
1/2 cup milk
Mix. Roll out to make 8 dumplings and place apples on each piece. Sprinkle with sugar and cinnamon. Roll together, put into pan, pour syrup over them and bake at 375 degrees for 35 minutes or longer, if desired.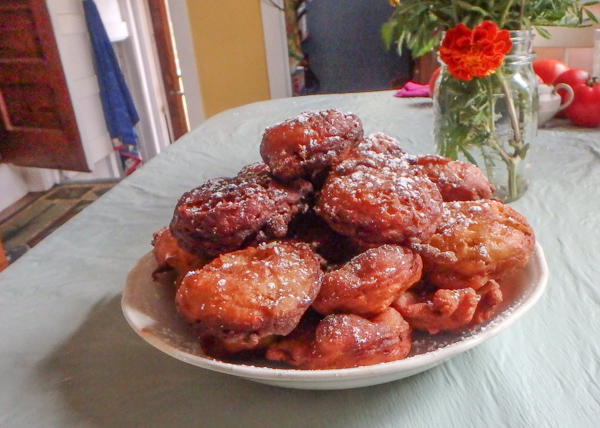 Apple Fritters are easy to make. The last time I made them I took them to a potluck and there wasn't a single one left. You can also add cinnamon, or nutmeg.
Apple Fritters 1927
1 cup flour
1 tsp baking powder
1/4 tsp salt
2 Tblsp sugar
2 eggs
1/3 cup milk
Mix until smooth.
Add 1 cup sliced and chopped apples.
Drop batter by spoonfuls into hot cooking oil and fry until golden brown on one side, and turn to brown the other. Sprinkle with powdered sugar or make a glaze with 1 c confectioner's sugar, 1 T light corn syrup, 2 T water, and drizzle over fritters.
Recipe from 1927 Cookbook
More Apple Recipes Pages
A Dash of History:
Did you know that apple dolls were a child's favorite toy in early Colonial America? They dried the apple and carved a face, put it on a stick and the dolls were easily dressed.
---