Home
>>
Holiday Recipes
>> Caramels and Carmel Apples
Homemade Caramel Recipes
These homemade caramel recipes are from my old recipe books that has been sitting on my shelf for many years.
The picture is of my daughter making the Melt in your Mouth Caramels for Christmas.
Also see Easy Popcorn Balls and the Candy Apples pages.
Melt in the Mouth Caramels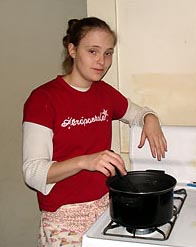 Makes about 2 1/2 pounds
1 cup butter or margarine
1 pound brown sugar
Dash salt
1 cup light corn syrup
1 14 oz can of sweetened condensed milk
1 teaspoon vanilla extract
Melt butter in a heavy saucepan. Add brown sugar and salt. Stir until thoroughly combined. Stir in corn syrup and mix well. Gradually add milk, stirring constantly.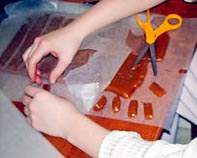 Cook and stir over medium heat until candy reaches firm ball stage. 245 on candy thermometer. about 12 to 15 min.
Remove from heat, stir in vanilla. Pour into a buttered 9 inch square pan. Cool and cut into squares.
Recipe from a 1974 cookbook
My Note: This recipe makes a lot caramel, you may want to cut the recipe in half. We cut the pieces with scissors and wrapped each piece in wax paper. It was delicious!
Homemade Caramels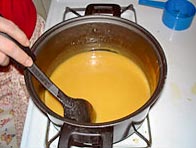 2 cups white sugar
1 cup brown sugar
1 cup light corn syrup
1 cup heavy cream
1 cup milk
1 cup butter
1 1/4 Tblsp. vanilla
Combine sugars, syrup, cream, milk and butter. Cook to firm ball stage - 250 degrees. Remove from heat, add vanilla and pour into well buttered 9x13 inch pan. Cool and cut into squares. Wrap in wax paper if you desire.
See the Caramels Recipe
Vanilla Caramels
2 cups sugar
1 cup brown sugar
1 cup light corn syrup
1 cup condensed milk
1 1/2 cups milk
1/3 cup butter or fat
1/4 teaspoon salt
1 1/2 teaspoons vanilla
Cook sugar, corn syrup, condensed milk, and milk together in a saucepan, stirring constantly until sugar is dissolved. Cook slowly, stirring occasionally to prevent burning, until temperature is 248 F., or until mixture forms a firm ball when tested in cold water. Remove from heat, add butter, salt, and vanilla and mix well.
Pour into a greased pan. When cold remove from pan, cut in cubes and wrap each caramel in wax paper.
Recipe from a 1953 cookbook
Chocolate Caramels - Add 5 ounces melted, unsweetened chocolate, cut into small pieces, to recipe above for vanilla caramels.
Coffee Caramels - Substitute 1 1/2 cups coffee for the milk in recipe above for Vanilla caramels and omit vanilla.
Nut Caramels - Add 2/3 cup broken nuts to recipe for vanilla, or chocolate caramels after cooking.
Club Caramels - Make chocolate and vanilla-nut caramels. - Pour one batch into the chilling pan, and top with the other batch.
Chocolate Caramels
2 1/2 tablespoons butter
1/2 cup milk
2 cups molasses
3 squares unsweetened chocolate
1 cup brown sugar
1 teaspoon vanilla
Put butter into kettle; when melted, add molasses, sugar, and milk. Stir until sugar is dissolved, and when boiling-point is reached, add chocolate, stirring constantly until chocolate is melted. Boil until, when tried in cold water, a firm ball may be formed in the fingers. Add vanilla just after taking from fire. Turn into a buttered pan, cool, and mark in small squares.
Recipe from Fannie Farmer 1893 Cookbook
Raisin Caramels
1 c. raisins
3/4 c. butter or margarine
1 c. brown sugar
1/2 c. semisweet chocolate pieces
Place 1 c. raisins in buttered 8x8x2 inch pan. Combine 3/4 c. butter or margarine and 1 c. brown sugar in saucepan; cook and stir to hardball stage (254). Pour over raisins. Top with 1/2 c. semisweet chocolate pieces, spreading as they melt. Chill until firm; cut into pieces.
See the recipe for Raisin Caramels
Carmel Apple Recipes
Caramel Apples
1 pound (56) vanilla caramels
2 tablespoons water
dash of salt
6 wooden skewers
6 crisp, medium apples
Chopped nuts
Melt caramels with water in double boiler, stirring frequently until smooth. Add salt. Stick a skewer into the blossom end of each apple. Dip apple in the caramel syrup and turn to coat. (If syrup is too thick, add a few drops water) At once roll bottom half of coated apple in chopped nuts. Set on cooky sheet covered with wax paper. Chill in refrigerator until firm. Makes 6 servings.
Recipe from a 1963 Teaching Teens to Cook Cookbook
Chocolate Caramel Apples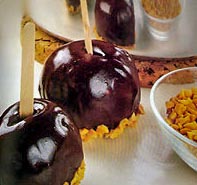 18 small apples
18 wooden sticks
1/2 cup butter
2 squares of unsweetened chocolate
2 cups of packed brown sugar
1 cup light corn syrup
1 14 oz can of sweetened condensed milk
1 teaspoon vanilla
1 cup chopped nuts
Wash and dry apples. Remove stems. Insert one wooden stick into the stem of each apple. In a heavy 3 quart saucepan melt the butter or margarine and unsweetened chocolate over low heat. Add brown sugar, corn syrup, and sweetened condensed milk, then mix well. Clip a candy thermometer on one side of pan.
Cook over medium heat stirring frequently, until thermometer registers 245.(firm ball stage) Remove saucepan from heat and stir in vanilla. Dip each apple into the hot caramel mixture, using a spoon to distribute evenly over apple. Allow excess caramel to drip off. Immediately dip bottoms of apples into chopped nuts. Place apples, peanut side down on wax paper and let stand for about 25 minutes or until firm. Makes 18.
Recipe from an 1985 Fun Foods Cookbook
Caramel Popcorn Balls Recipes
Caramel Popcorn Balls
2 1/2 quarts popped corn
1/2 pound (28) vanilla caramels
2 tablespoons water
Keep popped corn hot and crisp in slow oven (300 to 325). Melt caramels in 2 tablespoons water in a double boiler, stirring frequently. Add dash salt. Place popped corn in a large bowl and drizzle caramel sauce over; toss until corn is well coated. Butter hands and shape in balls.
Recipe from a 1963 Teaching Teens to Cook Cookbook
Caramel Popcorn Balls 2
2 cups brown sugar
1 stick margarine
14 oz. can sweetened condensed milk
3/4 cup white corn syrup
1 1/2 tsp. vanilla
Bring sugar, margarine and syrup to a boil. Add milk and cook on medium heat for about 6 to 10 minutes. Stirring often because it scorches easily. Remove from heat and add vanilla. Pour over 12 to 15 quarts of popped corn.
Caramel Popcorn Recipes
Caramel Popcorn
3/4 cup popcorn
1 stick butter
1 cup brown sugar
1/4 cup Karo light syrup
1/2 tsp. baking powder
Pop popcorn. melt butter for 1 minute in microwave. Add brown sugar and light syrup. Put in microwave for 1 minute and mix in baking powder. Pour into a large brown paper sack with popcorn and mix. Bake 1 1/2 minutes in microwave. Mix again and bake another 1 1/2 minutes.
Here's the Caramel Popcorn Recipe
Caramel Corn 1
2 c. brown sugar
1 stick oleo
3 T. white corn syrup
Boil for 1 minute and pour over popcorn.
Recipe note: I have loved this caramel corn recipe since I was a little girl. Kelly K.
Recipe from a 2001 Cedar County cookbook, Hartington, Nebraska
Caramel Corn 2
8 qts. popped corn, yellow
1 cup butter
1/2 cup dark syrup
1/4 tsp. salt
2 cups brown sugar
1/4 tsp. soda
Cook for 5 minutes then add soda and pour over popped corn. Bake 1 hour at 250 degrees. Stir every 15 minutes.
See the recipe: Caramel Corn 2
Here's another recipe for Oven Caramel Corn
Easy Caramel Corn
7 qts. popped corn
2 cups brown sugar
2 sticks butter
1 tsp. salt
Boil for 5 minutes. Remove from fire. Stir in 1/2 tsp. soda. Pour over the popped corn until all is covered. Place in shallow pan.
Heat oven to 250 degrees and place corn in oven for 1 hour, stirring every 15 minutes. Peanuts may be added.
See the Caramel Corn Recipe
Microwave Caramel Corn
1 cup brown sugar
1 stick oleo, melted
1/4 cup white corn syrup
1/2 tsp. salt
1/2 tsp. soda
Melt butter first. Bring to a boil in a 2 quart container the brown sugar, melted oleo, syrup and salt. Boil full power another 2 minutes. Put 4 quarts of popped popcorn in a large paper grocery bag. Add 1/2 teaspoon soda to the syrup mixture. Stir and then pour mixture over the popcorn in the bag. Put bag in microwave oven for 1 1/2 minutes. Then shake. Bake in microwave 1 1/2 minutes longer. Shake and pour in a pan where you can crumble it up a few times with your hands.
Recipe from 1998 Platte SD Hospital Recipebook
Here's another Microwave Caramel Corn recipe
Other recipes for Caramel
Caramel Apple Dip
1-8oz pkg. cream cheese
1/2 c. brown sugar
1 tsp. caramel flavor
1 tsp. vanilla flavor
1 T. milk
Warm cream cheese. Add all ingredients. Mix well and enjoy!
Recipe from a 2001 Cedar County Cookbook, Hartington, Nebraska
Also see more
Fruit Dip Recipes
Caramel Spread
8oz softened cream cheese
1/2 c. brown sugar (or a little more)
2 tsp. vanilla
2 Tblsp. caramel topping
Cream the cheese until smooth. Add vanilla, then sugar and caramel. Beat until fluffy. Use as an apple dip.
See the recipe: Caramel Spread
Condensed Milk Caramel
In Russia they make caramel this way: They lightly boil an unopened can of sweetened condensed milk submerged in hot water for 3 hrs, then let cool. When you open it, it will be like caramel. Make sure the pot does not go dry while boiling or the can will blow up. The longer you let it boil the thicker the caramel will be.
My Note: The safest way to make it is to use your crockpot. Pour a can of condensed milk into two 1/2 pint canning jars, and put the lids on tight. Lay them down in your crockpot and cover them with hot water, and put the crockpot lid on. Turn your crockpot on High and let simmer for 4 hrs. You will be able to see when your caramel is done. Use prongs to remove your jars from the crockpot. Let cool several hours, then refrigerate. I have made this several times for use as dessert toppings, and on cakes.
Caramel Party Mix Recipe
1 1/2 cups brown sugar
1/2 cup butter
4 Tblsp. light corn syrup
1/2 tsp. salt
3 cups Corn Chex
3 cups Rice Chex
1 can mixed nuts
1 cup Cheerios
3 cups stick pretzels
Melt the brown sugar, butter, corn syrup and salt. Combine remaining ingredients. Pour topping over the party mix. Stir well. Bake at 200 degrees for 1 hour. Stir occasionally.
See the Caramel Party Mix Recipe
Also see more Chex Party Mix recipes.
Old Recipes for Homemade Candy

Holiday Recipe
Start with a heart full of love. Add warm friendship spiced with laughter and merriment. Season with joyful greetings and serve with loads of good cheer.
Stocking Stuffers
Wrap your homemade candies in colorful plastic wrap and tie with festive ribbons. You might even want to add beaded eyes or a felt nose to the wrapper. And don`t forget to package your edible gift with an ornament or even attach the recipe.
Holiday Gift Bags
For an easy homemade Christmas gift, make some Chex Party Mix or Crispix Mix and give out as gifts to co workers. Put in cute decorative holiday bags wrapped with curling ribbon. Everybody loves them!
Easy Christmas Crafts
Here's a page to start making some easy Christmas Crafts. Easy Christmas Crafts for Kids and Homemade Christmas Ornaments