Home
>>
Bakery
>>
Holiday Recipes
>> Easy Cake Recipes
Easy Cake and Sheetcake Recipes
Here's some quick and easy cake recipes for a basic yellow or white cake, and some sheetcakes. I like making sheetcakes especially for a pot luck or party. The guests enjoy them too.
Also see these pages for Birthday Cake Ideas and Valentines Day Cake Ideas and the page for Chocolate Cake Recipes.
Before you have cake troubles read this Cake Baking troubleshooter.

White or Yellow Cake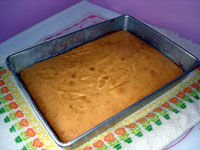 1/3 cup shortening
3/4 cup sugar
2 eggs
1 1/2 cup flour
3 tsp baking powder
1/2 tsp salt
1/2 cup milk
1 tsp vanilla
Cream shortening, sugar, and eggs together. Mix and sift flour, baking powder and salt. Add alternately with the milk to the first mixture. Add vanilla and beat thoroughly. Bake in 2 greased layer cake pans at 400 for 25 minutes. Cool
Recipe from a 1953 cookbook
Note: For a white cake... leave out the yolks.
Cake Tip: Fill cake pans about 2/3 full and spread batter well into corners and to the sides, leaving a slight hollow in the center.
Easy Yellow Cake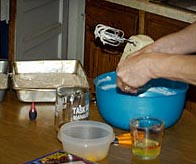 2 eggs beaten
1/8 tsp salt
1 cup sugar
1 tsp vanilla
1 cup flour
1 1/2 tsp baking powder
1/2 cup hot water
1 Tblsp butter
Beat eggs 5 minutes, adding salt, beat in sugar and vanilla, Sift flour and baking powder together, and add. Melt butter in hot water and add. Use an angel food cake tin. Bake at 350 until done.
Recipe from a 1953 cookbook
Easy Fruit Cocktail Cake
1 egg
3/4 cup sugar
1 1/4 cups flour
1 tsp. soda
dash of salt
1 can fruit cocktail
Cream egg and sugar. Sift flour, soda, salt. Add flour mixture to sugar and egg. Add fruit cocktail. Mix and put into pan. Sprinkle on top 1/2 cup brown sugar and a little cinnamon, and a few nuts (optional). Bake at 350 for 30 minutes.
Recipe from 1997 Friedens Reformed United Church of Christ, Tripp, SD recipe book pg 24
Here's another Fruit Cocktail cake recipe and here's the topping for the Fruit Cocktail cake. It makes a large loaf cake.
Anything Cake
1/2 cup white sugar
1/2 cup brown sugar
1/2 cup shortening
1 egg
2 cups flour
pinch of salt
1 tsp. soda
1 cup sour cream or buttermilk
1 tsp. vanilla
2 cups of any diced fruit (fresh or canned apples, berries of all kinds, peaches, rhubarb, or combinations of fruit)
Cream sugars and shortening. Blend in egg. Sift together dry ingredients. Add sour cream alternately with sifted dry ingredients; mix well. Add vanilla, mix well. Fold in desired fruit. Pour in a greased and floured 9x13 inch pan. Sprinkle cinnamon/sugar over batter. Bake at 350 degrees for 25 to 35 minutes.
Recipe from 1997 Friedens Reformed United Church of Christ, Tripp, SD recipe book pg 29
Cake Tip: Cakes should not be frosted until thoroughly cool.
Easy Pineapple Sheet Cake
2 eggs
4 cups flour
2 cups sugar
2 teaspoons soda
1 teaspoon vanilla
1 can crushed pineapple
Combine all ingredients in a large mixing bowl, Beat well. Pour batter into a greased 15x10x1 inch pan. Bake at 350 for 25 minutes
Cool in pan until slightly warm then top with frosting.
Frosting:
8 oz cream cheese softened
1/2 cup butter softened
1 cup sifted powdered sugar
1 teaspoon vanilla
Combine all ingredients in a medium size mixing bowl, beat well until smooth. Spread over warm pineapple cake.
Cake Tip: The cake is done when it shrinks slightly from the sides of the pan or if it springs back when touched lightly with the finger.
White Texas Sheet Cake
2 sticks butter
1 cup water
2 cups sugar
2 cups plus 2 T. flour
1 teaspoon salt
3 eggs
1/3 cup buttermilk
1 tsp. baking soda
1 T. vanilla
Bring butter and water to a full boil. Mix together sugar and flour, then add butter mixture and mix well. Add rest of ingredients and mix well. Pour into greased jellyroll pan. Bake at 350 for 20-30 minutes. Frost cake immediately when taken out of oven.
Frosting:
1 stick oleo
4 T. milk
1 cup chopped nuts
4 cup powdered sugar
1 teaspoon vanilla
Bring to a boil oleo and milk, then add sugar, vanilla and nuts.
See the recipe: White Texas Sheet cake
Pie Cake
Melt 1/4 lb. butter in 9x13 pan.
Beat:
1 c. milk
1 c. flour
Pinch of salt
1 c. sugar
2 tsp baking powder
Dump on butter. Drain 1 large can of fruit. Dump on batter. Bake 30 minutes at 425°. This has been in the family for 40 years. It's quick and easy.
See the recipe: Pie Cake
Cake Tip: After a cake comes from the oven, it should be placed on a rack for about 5 minutes. Then the sides should be loosened and the cake turned out on rack to finish cooling.
Georgia Bachelor Cake
2 cups sugar
1/2 cup butter, melted
6 eggs
1 c. nuts
2 oz. coconut
1/2 c. milk
big box vanilla wafers
Melt butter and beat in eggs and sugar. Crush vanilla wafers and mix everything in - bake 45 minutes to 1 hour at 350 deg. Use a butter icing.
See the recipe: Georgia Bachelors Cake
Queen Elizabeth Cake
Pour 1 cup boiling water over 1 cup dates, chopped, and 1 teaspoon baking soda and let stand while mixing cake batter.
1 cup sugar
1/4 cup butter
1 egg, beaten
1 tsp. vanilla
1 1/2 cup sifted flour
1 tsp. baking powder
1/2 tsp. salt
1/2 cup nuts, chopped
Cream butter and sugar; add rest of ingredients in order. Mix and add to date mixture. Bake in 9x13 inch greased and floured pan at 350 for 35 to 40 minutes.
Frosting:
5 Tblsp. brown sugar
3 Tblsp. butter
5 Tblsp. cream
Boil 3 to 5 minutes. Beat and spread over cake. Sprinkle top with nuts or coconut.
See the recipe: Queen Elizabeth's Cake
Miscellaneous Cake Recipes from my old recipe books
Coffee Cakes, as good as their name... with a cup of coffee.
Cake Recipe Pages
Food for Thought:
"A wise man changes his mind; a fool never will."
---