Home
>>
Bakery
>> Birthday Cake Ideas
Child's Birthday Cake Recipes
A great idea for a child's birthday party cake. It is commonly called a Calico Cake, but I can see this recipe used for many ideas like, Fourth of July, or even for a Baby Shower Cake.

Before you have cake troubles read this Cake Baking troubleshooter
Calico Cake
1 box white cake mix
food coloring, red, green, blue, yellow
Icing
Prepare the white cake mix and separate the batter into different bowls. Color each bowl of batter a different color. Pour mounds of batter in the cake pans, alternating layers of color. Try not to get the same colors together. Bake according to box. Great for children's birthday parties!
Birthday Cake
1/2 cup Mazola
1 cup sugar
1 egg
4 egg yolks
1 teaspoon orange extract
1/3 teaspoon salt
1/2 cup milk
1 1/2 cups flour
1/4 cup Argo or Kingsford's cornstarch
2 1/2 teaspoons baking powder
Pour the Mazola into a bowl, add the sugar and the egg and egg yolks, beaten creamy. Cream until all the graininess has disappeared, and add the extract and salt. Sift together the flour, cornstarch and baking powder and add alternately to the first mixture, with milk. Beat two or three minutes, transfer to a tube pan lightly oiled with Mazola, and bake forty-five minutes in a moderately hot oven, 350 to 375 F.
Cool, brush off the crumbs and decorate with Ornamental Icing. Fill the "hole" in the center with tiny favors or with fresh flowers. Put the cake on a small tray covered with a paper doily, and wreathe with flowers.
Recipe from a 1927 cookbook
Russian 4 Layer Birthday Cake
1 stick butter (melted)
2 eggs
1 can condensed milk
3/4 cup flour
1 1/2 Tblsp. cocoa
1 tsp. baking soda plus 1 tsp. vinegar
large container of sour cream
3/4 to 1 cup of sugar
Preheat oven to 350F. Beat eggs in a bowl and slowly add melted butter. Add the condensed milk and mix well. React the baking soda with the vinegar and add to batter. Mix in flour a little at a time.
Divide batter in half and add cocoa to one. Pour each into buttered (and floured) cake pans. Bake at 350F, 15 to 20 minutes. Let cool, remove from pans and cut each cake in half to make 4 layers.
Slowly mix sour cream and sugar with a large spoon, and spread on the cake slices as you layer them on a plate. Use remaining sour cream to spread on sides. Add a Chocolate glaze if you like.
Chocolate Glaze: Melt 3/4 stick of butter in a small pan, add 3/4 cup sugar, 1 T cocoa, and 3 T water. Heat till sugar melts. Let cool, and drizzle on top, or around the edges.
My Note: This is really a simple, delicious cake. In Russia it is called "Smetanik" which means sour cream cake. I have made it 4 times now. The only issue I have is being able to gracefully get it out of the cake pans. The main thing is the cake must be totally cooled, then run a knife around the outside, and then slip a small spatula inside to loosen it from the pans. I have also made it in 8 in. and 9 in. cake pans. The 8 inch cake pans produce a larger layer to be able to slice it. Also, this cake gets better with age. If you let it set a couple of days, the sour cream will sink into the cake layers making it really moist. So, make it a couple days before the birthday.
Update 9-24-15: I made the above Russian 4 layer cake today for the pot luck tomorrow, and I greased and floured my 8 inch cake pans, and to my amazement, the cake layers fell right out of the cake pans. wow. I didn't have much luck with the glaze though, I guess I let it cook too long, and when it cooled it thicken. Then I had to heat it up again to get it to pour.
Best 2 Egg Cake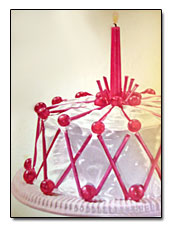 Stir 1/2 cup butter, margarine, or shortening to soften.
Gradually add 1 1/2 cups sugar, and cream thoroughly 12 to 15 minutes at high speed with an electric mixer.
Add 1 teaspoon vanilla, 1/4 teaspoon lemon extract, and 2 or 3 drops almond extract.
Add 2 eggs, one at a time; beat well after each.
Sift 2 1/4 cups sifted cake flour with 2 1/2 teaspoons baking powder and 1 teaspoon of salt.
Add to creamed mixture alternately with 1 cup plus 2 tablespoons milk, beginning and ending with the flour mixture, and beating after each addition.
Bake in 2 paper lined 9 inch x 1 1/2 inch pans at 375 about 23 minutes or until done.
Cool 5 minutes; remove from pans.
For a Drum Cake use 1 1/2 times recipe; bake in (3) 9 inch pans. Frost with buttercream frosting. Use candy sugar sticks on the sides and as drumsticks, and up top with sour ball ends. Light a tall red candle
More Drum Cakes
- a chocolate, yellow drum cake ... chocolate drum cake
- white, clown, drum cake... white clown drum cake - how to decorate
Another Birthday Cake decorating idea: Use small marshmallows as candle holders for a birthday cake. They prevent the wax drippings from running into the frosting. To keep ice cream cones from leaking through the bottom of a cone, put a marshmallow in the bottom.
Recipe from a 1963 cookbook
Pictures of Decorated Cakes
These pictures are from some 1960's recipe books, but they may help you come up with some cake decorating ideas. Learn how to decorate a cake
More Cake Pages
-
Basic Cake Decorating
-
Make an Easy Wedding Cake
-
Easy Homemade Cake Recipes
-
Cake Mix Recipes
-
White Icings and Frostings
-
Chocolate Icings and Frostings
-
Cheesecakes
-
Fruit Cakes
-
Christmas Cakes
-
Bisquick Cake Recipes
For a Child's Birthday Party tips see Birthday Party Ideas
Food for Thought:
"The best birthdays of all are those that haven't arrived yet."
---