Home
>>
Fruit Recipes
>> Strawberries
Strawberry Recipes
I've been making a lot of 4-layer cakes lately, and this is one of my favorites. A Russian 4 layer Strawberry Cake. see the recipe below. To make 4 layers, you don't need 4 cake pans, you just slice 2 cake layers in half to make 4 layers.
I put all the strawberry dessert recipes on this page, including my favorite Punch Bowl Cake.
There are different types of Strawberry Jams, and several strawberry fruit dips on other pages.
Also, if you have some Bisquick, you can make a Bisquick Strawberry Shortcake
Strawberry Cakes
Russian 4 Layer Strawberry Cake
Preheat oven to 350°.
6 lg eggs, room temperature
1 cup sugar
1 cup flour
Grease bottoms and line bottoms of 2 - 8 inch cake pans with parchment or wax paper. Whisk eggs and sugar for 10 minutes. Sift in 1 cup flour, and fold in with a spoon till combined, and no lumps.

Pour into 2 pans and bake 17-20 minutes, till golden on top. Do not remove wax paper until totally cool.

FROSTING:
1/2 cup heavy whipping cream
1 8oz. pkg. cream cheese, soft
1/3 cup sugar

Beat cream cheese till smooth, beat in sugar, then add the heavy cream and beat on high 2-3 minutes.

FILLING:
1 lb fresh strawberries, blend till chunky like applesauce. (I have used frozen, and chopped them when partially thawed.
Put it together:
Slice each cake layer in half to make 4 layers. Spread the first layer with 1/3 of the strawberry puree, then spread the cream cheese filling on the bottom of the 2nd layer, and place on top of the first layer. Repeat.
So here's the stacking order:
cake, strawberry, cream;
cake, strawberry, cream;
cake, strawberry, cream, cake
Then frost the top and sides. Decorate with extra strawberries.
My Note: This cake gets better with age. Try to wait a day before eating it to give it soaking time. Also, I have made it in 8 inch cake pans and 9 inch cake pans, The 9 inch makes a thinner cake, and is tricky to slice in half, but still works. Plus, I still have difficulty getting the wax paper off the bottom of the cakes. I haven't tried parchment paper yet.
Strawberry Cake Roll
3/4 cup flour
3/4 tsp. baking powder
1/4 tsp. salt
4 eggs-room temperature
3/4 cup sugar
1 tsp. vanilla
1 cup heavy whipping cream - whipped
2 cups sliced fresh strawberries
Early in the day: Preheat oven to 400°. Line bottom of a 15 x 10 x 1 jelly roll pan with wax paper. Sift flour w/ baking powder and salt. In a bowl, with a mixer at high speed, beat the eggs until frothy. Beat in sugar gradually; continue beating until thick and light colored.
With spatula or spoon, fold in flour mixture and vanilla. Spread in prepared pan. Bake 13 minutes or until lightly browned. Lightly dust a clean dish towel with powdered sugar. When cake is done, loosen sides from pan with spatula. Invert onto the towel. Carefully peel away the wax paper. Cut off any crisp edges. Starting with the narrow end, roll cake very gently rolling towel into it. Cool.
One hour and 15 minutes before serving. Unroll the towel. Spread with whipped cream, sprinkle with berries. Roll up cake from narrow end, and place roll seam side down on a serving plate. Refrigerate. Just before serving sprinkle with powdered sugar.
Tip: Use Cool Whip instead of whipping cream.
4 Layer Punch Bowl Cake
1 pkg yellow cake mix
2 lg can crushed pineapple(drained)
1 lg pkg vanilla instant pudding(dry)
2 lg tubs Cool Whip
6 bananas sliced
4 cups strawberries(fresh or 2 pkg frozen)
Prepare the cake mix in 2 layers and slice to make 4 layers. Start with a layer of cake in the bottom of a large glass bowl. Add a layer of each of the following:
Pineapple on the first layer
Banana on top of the pineapple
Sprinkle pudding mix
Spread Cool Whip
Add sliced or frozen strawberries
Repeat 4 times. Top with remaining Cool Whip and decorate with strawberries Refrigerate. Delicious!
My Note: Punch Bowl Cake is one of my "all time" favorite recipes, an easy summer strawberry cake or anytime during the year. It makes a huge amount, so take it to your next party, family reunion, or get together. Punch Bowl Cake makes a lot, but you still take home an empty bowl. It tastes fantastic and everyone loves it. You don't have to have a punch bowl either, any large container will do.
Quick Strawberry Dessert
1/2 loaf angel food cake, or 1/3 round cake
1 box instant vanilla pudding
1 cup cold milk
1 pint vanilla ice cream
1 box strawberry gelatin
1 cup boiling water
1 (10 oz.) box frozen strawberries
Break cake in pieces. Place in 8x12 inch pan. Dissolve pudding in cold milk and ice cream. Beat until well mixed. Pour over cake. Do not stir. Let set.
Dissolve gelatin in boiling water. Add strawberries. Stir until gelatin begins to thicken. Pour over pudding cake. Do not stir. Place in refrigerator until ready to serve. Makes 6 - 8 servings.
See the recipe: Quick Strawberry Dessert
Strawberry Shortcakes
Strawberry Shortcake with Biscuits
-Wash, hull and slice the strawberries into a bowl, sprinkle with a little sugar, cover and put in fridge until supper time.
-Then make some biscuits. Let cool, then when ready to serve, slice your biscuits, and top with some strawberries, and pour a little of the syrup on. Then top with Cool Whip or the canned whipped topping.
My Note: I've seen strawberry shortcake made many different ways. The most popular are the little yellow shortcakes you get in the produce section when you buy your strawberries. Some people use pound cake too. But when we went to a Strawberry Festival they used biscuits instead of short cake. See the picture we took. Doesn't that look yummy?
Also see this recipe for Bisquick Strawberry Shortcake
Strawberry Short Cake 2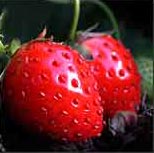 2 cups flour
2 teaspoons sugar
4 teaspoons baking powder
3/4 cup milk
1/2 teaspoon salt
1/4 cup butter
Mix dry ingredients, sift twice, work in butter with tips of fingers, and add milk gradually. Toss on floured board, divide in two parts. Pat, roll out, and bake twelve minutes in a hot oven 400 in buttered pie pan or round layer cake tins until done. Split, and spread with butter. Sweeten strawberries to taste, place on back of range until warmed, crush slightly, and put between and on top of Short Cakes.
Strawberry Short Cake 3
2 cups flour
1 tablespoon sugar
4 teaspoons baking powder
1/3 cup butter
1/2 teaspoon salt
1/3 cup milk
Mix dry ingredients, sift twice, work in butter with tips of fingers, and add milk gradually. Toss and roll on floured board. Put in round buttered tin, and shape with back of hand to fit pan. Bake twelve minutes in a hot oven 400°.
Fruit Short Cake
1/4 cup butter
1/4 cup milk
1/2 cup sugar
1 cup flour
1 egg
2 teaspoons baking powder
1/4 teaspoon salt
Cream the butter, add sugar gradually, and egg well beaten. Mix and sift flour, baking powder, and salt, adding alternately with milk to first mixture. Beat thoroughly, and bake in a buttered round tin. Cool, spread thickly with sweetened fruit. Fresh strawberries, peaches, apricots, raspberries, or canned quince or pineapple may be used. When canned goods are used, drain fruit from syrup and cut in pieces.
Strawberry Pies
Jones Farm Strawberry Pie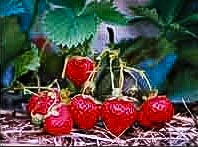 1 1/2 qt fresh strawberries
1 cup sugar
3 Tablespoons cornstarch
2 Tablespoons fresh lemon juice
Wash and cap strawberries, reserve half of the best ones. Mash the other half and add sugar and cornstarch. Cook 5 or 6 minutes until thickened and clear. Stir in lemon juice. Cool. Add reserved berries, saving some for garnish. Pour into a 9 in baked pastry shell. Top with whipped cream. For an 8 inch pie use 2/3's of this recipe.
Glazed Strawberry Pie
4 cups strawberries
1/2 cup powdered sugar
1 cup water
1 1/2 Tablespoon cornstarch
1/2 cup sugar
8 inch pie crust - baked
Wash strawberries and remove hulls. Add powdered sugar to 3 cups of the berries Let stand 1 hr. Crush remaining berries. Cook in 1 cup water for 2 min. Mix cornstarch with sugar and stir into the berries. Cook gently, stirring constantly for about 20 min. or until clear. Fill baked pie crust with the whole berries. Cover with the hot sauce. Cool. The sauce will become beautifully clear glaze when it is cold.
Other Strawberry recipes
Strawberry Bars
Melt butter and stir in corn syrup
1/2 cup butter
1/2 cup dark corn syrup

Mix in:
1 egg beaten
1/2 teaspoon vanilla

Sift together:
1 1/2 cup flour
1/2 teaspoon salt
1 teaspoon baking powder
1/2 teaspoon cinnamon
Stir the dry ingredients into the syrup mixture Spread half the batter in a greased and floured 11x7 inch pan Carefully spoon 3/4 cup strawberry preserves over the batter Then carefully spread the rest of the batter on top of the preserves. Bake at 400 for 20 to 25 minutes While still warm frost with powdered sugar icing.
Tip: If the batter seems too thick to spread add a little water to the desired consistency.
My Note: I've had this recipe for many years. It's one of those recipes where it's worth the extra preparation time. Great for holidays or anytime. They are a real treat. They're like the original fruit bars.
Strawberry Bread
3 c. flour
1 tsp. cinnamon
1 tsp. salt
1 tsp. baking soda
2 c. sugar
4 eggs
1 1/4 c. oil
1 1/4 c. chopped nuts
2 (10oz) pkgs. frozen strawberries
Mix all ingredients except strawberries. Mix until well blended. Fold in thawed strawberries. Put in 2 greased loaf pans. (Grease pans, line with foil, and grease again) Bake at 350 degrees for 1 hour.
Recipe from SD Special Olympics Cookbook
Chocolate Dipped Strawberries
This is a popular summertime treat. Just melt a bag of chocolate chips and dip the ends of the strawberries in the chocolate. Chill until you serve them.
Fruit Dessert Recipes
Food for Thought:
"Prayer is not an attitude attained but an attitude maintained."
Ladies in Pink pg 182
---