Home
>>
Bakery
>>
Holiday Recipes
>> Cupcakes
Halloween Cupcake Decorating Ideas
Decorate some cupcakes or decorate a cake like this for Halloween.
If you are going to have a Halloween Party, below are some Halloween Cupcake Decorating Ideas.
You can use cake mix to make your cupcakes too.
Baking cupcakes is fun, get your kids involved. Frost your cupcakes with orange frosting and use candy corn to make a quick pumpkin face.
Halloween Cupcake Party Idea: Small guests demonstrate their cake-decorating skill with unfrosted cupcakes. Bowls of frosting and trims form the centerpiece; children "paint" the cupcakes (Provide plenty of wet wipes.) The rules permit one cupcake to be eaten. And don't forget the camera.
Spider Web Cupcakes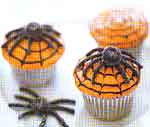 Use orange frosting and squeeze chocolate frosting in a circle, then use the back of a knife to connect the web.
Cut licorice gumdrops for a spider.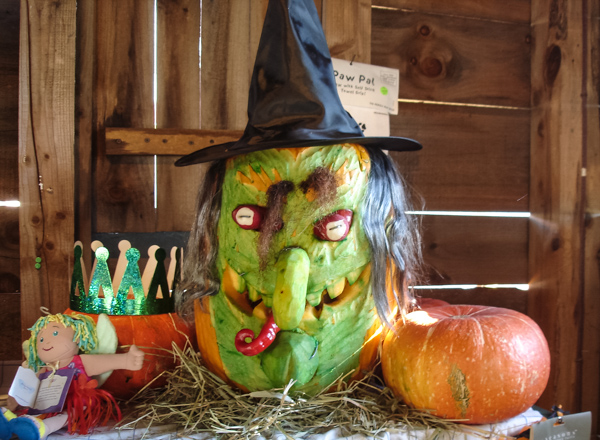 Wicked Witch
-Frost cupcakes with green icing
-Press on some M & M's for eyes
-Press on a candy corn nose
-Use licorice lace for hair and eyebrows.
Black Cat Cupcakes
-Prepare a white frosting or use ready-to-spread.
-Tint it orange, using 1 to 2 drops each red and yellow food coloring.
-Frost the cupcakes.
-For each cat, slice a 1-inch black gumdrop into 3 pieces.
-Use small rounded end slice for head, and largest slice for body; cut tail and ears from third slice.
Witches Cat Decoration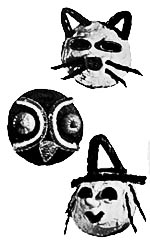 -For ears bend hollow licorice twists; bend in half, insert in cupcake.
-Eyes are a black jellybean, halved lengthwise.
-Add a red gumdrop nose, licorice strips for whiskers.
Hooty Owl:
Eye outlines are "peel" cut from 2 orange jellied fruit slices.
His owlish eyes are orange pumpkin candies; snip of candy orange slice makes beak.
Little Good Witch:
Use licorice twist for hat and curls. Make hat crown like the cat's ears, but larger) Add bit of jellied fruit slice for mouth, halved licorice drop for eyes, a candy coated licorice stick for nose.
Vanilla Cupcakes
1/2 cup shortening
1 cup sugar
3 eggs
2 tsp baking powder
1/2 tsp salt
1/2 cup milk
1 tsp vanilla
1 3/4 cups flour
Mix thoroughly in order given. Pour half full into cupcake liners. Bake 375 15 to 20 min. Makes 18 cupcakes.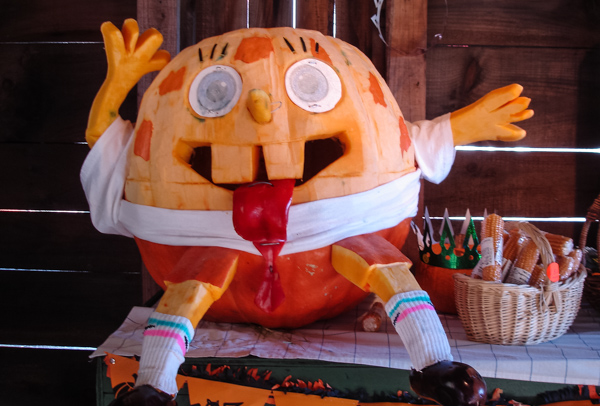 The pumpkin pictures we took at a Pick UR Own Pumpkin Farm. Pretty funny.
Chocolate Cupcakes
3/4 cup butter or margarine
1 2/3 cup sugar
3 eggs
1 tsp vanilla
2 cups sifted flour
2/3 cup cocoa
1 1/4 tsp soda
1/4 tsp baking powder
1 tsp salt
1 1/3 cup water
Combine butter, sugar, eggs and vanilla in a large mixer bowl. Beat on high speed for 3 minutes. In a separate bowl, combine the flour, cocoa, baking soda, baking powder and salt. add alternately with water to creamed mixture. Blend just until combined. Fill paper lined muffin cups 2/3 full with batter. Bake at 350 for 20 to 25 min. Cool. Frost.
Easy Buttercream Icing
2 1/4 cup powdered sugar
1 stick 4 oz softened butter
1/2 tsp vanilla
1 tbsp milk
Mix the vanilla with the milk. Sift the powdered sugar, and add gradually to the butter, then add the milk. Beat until the icing is smooth and of a soft spreading consistency.
Party Snack Pages
---