Home
>>
Holiday Recipes
>> Valentine's Day
Valentines Day Recipes
When St.Valentines Day rolls around, make a Sweetheart Cake, or call on these salads to lend a happy note. It's a delicious way to say, "Be Mine!"
Make some polka-dot cupcakes, with tiny heart candies decorating the top for the kids.
Make a Heart Shaped Valentine's Day Cake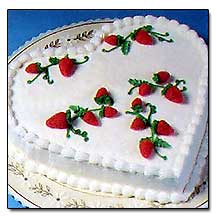 You don't need a heart shaped pan to make a simple but impressive cake.
It's perfect for Valentine's Day or anytime you want to show you care.
Make a heart for your Valentine.
1. First bake both a round cake and a square cake.
2. Cut the round cake in half, turn the square cake so it looks like a diamond.
3. Add a cut round cake half on the top on each side of the diamond.
4. Fasten the cake pieces together with Buttercream Frosting.
5. Frost and serve. Easy.
Salad Hearts
Salad Hearts are rich, creamy molds dotted with fruit cocktail and tiny marshmallow fluffs.
1 #2 1/2 can (3 1/2 cups) fruit cocktail
1 package lemon flavored gelatin
1 cup hot water
1/4 cup maraschino cherry syrup
2 tablespoons lemon juice


2 3oz pkgs. cream cheese
1/2 cup mayonnaise or salad dressing
1 1/2 cups tiny marshmallows
1/4 cup quartered maraschino cherries
1 cup whipping cream, whipped
Few drops red food coloring
Drain fruit cocktail, reserving 1 cup syrup. Dissolve gelatin in hot water; add reserved fruit cocktail syrup, maraschino cherry syrup, and lemon juice. Chill until partially set.
Soften cream cheese; add mayonnaise and beat until smooth. Add to gelatin mixture, mixing well. Stir in fruit cocktail, marshmallows, and cherries. Fold in whipped cream. Tint pink with red food coloring. Pour into individual heart molds.* Freeze salad several hours or overnight. Unmold atop canned pineapple rings. If desired, top with Gelatin Heart Cutouts. Makes 12 large or 18 small servings. *Freeze any extra in refrigerator tray.
Gelatin Heart Cutouts
Dissolve one pkg. cherry or strawberry or raspberry flavored gelatin in 2 cups hot water. Pour into shallow baking dish. Gelatin should be a little less than 1/2 inch deep. Chill to firm. Cut hearts with a cookie cutter. To remove the first cutout, slit a piece of gelatin between designs and pull out scraps; lift the cutout with a spatula. Serve atop the Valentine salads.
Center the tray with: Fluffy Pink Mayonnaise.
Whip 1/2 cup whipping cream; fold in 1 cup mayonnaise. Fold in a drop or two of red food coloring to tint to a delicate pink.
Queen of Hearts Frosting
1 egg white
3/4 cup sugar
2 tablespoons heart-shaped red cinnamon candies
Dash salt
1/2 cup applesauce
1 teaspoon light corn syrup
Combine all ingredients in top of a double boiler. Beat 1 minute with electric or rotary beater. Place over boiling water; beat constantly until mixture forms peaks, about 4 minutes. (Careful - don't overcook!) Remove from boiling water.
Beat until it's of spreading consistency, about 2 minutes. Frost tops of 12 cupcakes or tops and sides of one 9 inch square cake. Dot with additional red candies.
Recipe from a 1963 Cookbook
Cherry Meringue Torte
Nice for a February Party
Shell: Beat 3 egg whites with 1 teaspoon vanilla and dash of salt until foamy. Gradually add 1 cup sugar; beat to stiff peaks. Mix 3/4 cup chopped walnuts, 1/3 cup saltine crackers crumbs, and 1 teaspoon baking powder; fold into egg whites. Spread in a well greased 9 inch pie plate, building up sides. Bake at 300 F for about 40 minutes. Cool
Filling: Drain 1 #2 can (2 1/2 cups) pitted tart red cherries, reserving syrup. Combine 3/4 cup syrup and 1/4 cup sugar; heat to boiling. Add cherries; cook 10 minutes. Mix 2 tablespoons cornstarch with remaining cold syrup; add to hot mixture. Cook, stirring constantly, until thick and clear. Cool. Whip 1 cup whipping cream; line Shell with half. Fill with cherry mixture; top with remaining cream.
Recipe from a 1963 cookbook
Red and White Sundaes
Place tiny scoops of vanilla ice cream in dessert dishes. Top with red raspberry preserves or quick cherry Sauce.
Quick Cherry Sauce: Chop drained maraschino cherries. Add light corn syrup and a little lemon juice to taste; add a dash of salt. Spoon over ice cream.
Heart Shaped Sandwiches
Make heart sandwiches with cookie cutters and both dark and white bread.
Cut large hearts, circles, and 2 inch squares from both white and dark bread. (If you freeze thebread and cut while frozen, the edges won't crush.)
Cut small hearts in the center of half the cutouts of each color - if you have tiny heart hors d'oeuvre cutters, cut twin hearts.
To make the inlaid sandwich tops, replace the small cutout hearts in the white bread with ones of dark bread, and visa versa.
Spread the plain bases with your choice of sandwich filling. You may want to use egg salad, ham salad, or process cheese spread. Top filling with an inlaid cutout of the same shape, but of contrasting color.
My Note: You could make cookie cutter cookies with a heart shaped cookie cutter. Divide the cookie dough in half and tint one half of the dough with red food coloring.
More Holiday Recipes
Food for Thought:
"The door to the human heart can be opened only from the inside."
---