Home
>>
Holiday Recipes
>>
Gingerbread House Recipe
>> Gingerbread House Pics
Winning Gingerbread House Pictures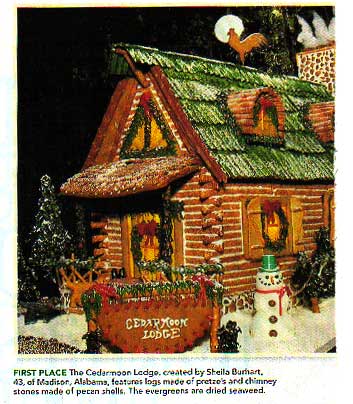 "Gingerbread has been a holiday tradition for thousands of years. It was originally eaten during Winter Solstice Festivals.
The tradition of the house made of Gingerbread originated in Germany. It is believed that in the early 1800's, Germans began shaping their Gingerbread into festive holiday creations.
Gingerbread Houses soon became popular, and remain so today. The Gingerbread House has now become a favorite Christmas tradition all over the world."
On this page you are surrounded by some Gingerbread House Winners.
FIRST PLACE: "The Cedarmoon Lodge, created by Sheila Burhart 43, of Madison, Alabama, features logs made of pretzels and chimney stones made of pecan shells. The evergreens are dried seaweed."
---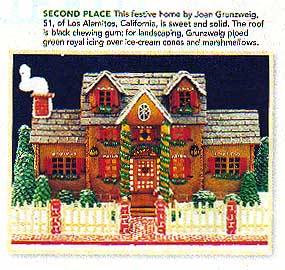 SECOND PLACE: "This festive home by Joan Grunzweig, 51, of Los Alamitos, California, is sweet and solid. The roof is black chewing gum. For landscaping Grunzweig piped green royal icing over ice cream cones and marshmallows."
---
THIRD PLACE: "Maria Spratford, 57, of Carmel, Indiana, chose to honor the heroes of 9/11 with this Christmas-theme firehouse. The walkway is made of dried lentils, the dalmation of gum paste."
---
Guess how they got the sides of the gingerbread house to curve like that.
When the gingerbread comes out of the oven, place the warm gingerbread to lay over 2 cans!
Make a Gingerbread House
It's easy to make a gingerbread house. Once you have the recipe you can make up your own design of a house by cutting out a pattern from cardboard, and then following the steps to build it. Here's a Gingerbread House Recipe
Other Gingerbread Pages

Holiday Recipe
Start with a heart full of love. Add warm friendship spiced with laughter and merriment. Season with joyful greetings and serve with loads of good cheer.
Stocking Stuffers
Wrap your homemade candies in colorful plastic wrap and tie with festive ribbons. You might even want to add beaded eyes or a felt nose to the wrapper. And don`t forget to package your edible gift with an ornament or even attach the recipe.
Holiday Gift Bags
For an easy homemade Christmas gift, make some Chex Party Mix or Crispix Mix and give out as gifts to co workers. Put in cute decorative holiday bags wrapped with curling ribbon. Everybody loves them!
Easy Christmas Crafts
Here's a page to start making some easy Christmas Crafts. Easy Christmas Crafts for Kids and Homemade Christmas Ornaments