Home
>>
Holiday Recipes
>>
Gingerbread
>> Gingerbread House
How to Make a Gingerbread House
This recipe makes enough dough for one cottage, plus leftovers to make decorative pieces like doors, shutters, window ledges and and flower ornaments.
Decide what kind of Gingerbread house you want to build.
Cut your patterns from cardboard.
Make two roof pieces.
Two front and back pieces
Two side pieces
Grease and flour 2 large cookie sheets 14 x 17.
See some
pictures of Gingerbread House Winners
Gingerbread House Recipe
1 1/2 cups dark corn syrup
1 1/3 cups packed dark brown sugar
1 cup butter - no substitutes
7 cups all-purpose flour
1 Tablespoon ground cinnamon
1 1/2 tsps ground ginger
1 tsp. ground cloves
1/2 tsp. ground nutmeg
1/2 tsp. salt
In a large saucepan, combine the corn syrup, sugar and butter; cook and stir over medium heat until butter is melted. Pour in a large mixing bowl.
Combine dry ingredients; gradually beat into sugar mixture (dough will be stiff). Chill for at least one hour.
Roll dough to 1/8 inch thickness on a greased baking sheet. Cut into desired shapes using your patterns. Leave at least an inch space between pieces, because the dough will spread during baking. Remove dough scraps.
Bake at 350 degrees for 10-15 minutes or until edges are lightly browned. While the pieces are warm, re-trim if necessary. Cool for 5 minutes; remove from pan to wire racks to cool.
Yields one small gingerbread house approximately 8 in. x 10 in.
Get ready to decorate. You don't need a special icing. Just one that is thick enough to act as glue.
Make the Icing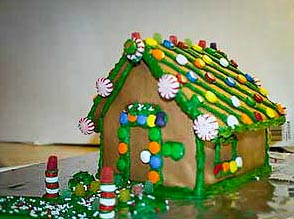 1 1/2 cups butter or margarine - soft
1 1/2 cups shortening
3/4 cup water
3 Tablespoons vanilla
12 cups powdered sugar
In a large mixing bowl, cream butter and shortening.
-Add water and vanilla; beat until smooth.
-Gradually beat in sugar; mix well.
-Place a damp paper towel over bowl and cover tightly between uses.
My Note: The picture is the first gingerbread house we ever made. Nothing special about it, but it was a good first try. The problem was, when do we get to eat it? We wound up waiting until after Christmas, and then it was hard as a rock. All we salvaged was some of the candies.
Items Needed to Build it
17-inch x 22-inch display base - heavy duty cardboard or cutting board or piece of plywood - covered with aluminum foil
Serrated knife or emery board - for filing
Food coloring
Small paintbrush
Pastry bags or heavy-duty resealable plastic bags
Pastry tips- #10 round, #5 round and #67 leaf
Spice bottles or other small bottles
Heavy-duty cardboard
Assembling the Gingerbread House
To assemble the frame of the gingerbread house you will first test the cookie pieces to make sure they fit snugly together. If they don't you will need to file the pieces carefully with a serrated knife or an emery board to make the pieces fit.
To color the gingerbread house you will need to combine four tsp. of water and 1/2 tsp. of the food coloring that you would like the color of the gingerbread house to be (and add it to some icing). Carefully brush the icing onto the front, back and sides of the gingerbread house with a small paintbrush. Let it dry overnight.
To assemble: Position the gingerbread house on a display base. Insert a #10 pastry tip into a pastry bag. Fill it two-thirds full with icing. Beginning with the back piece of the gingerbread house, squeeze a wide strip of icing onto the bottom edge of the back piece. (Prop the back piece up with spice bottles until the icing is firm about 3-4 hours.)
To add the sides and front of the gingerbread house, squeeze icing on the edge of one of the side pieces and on the side edge of the back piece.
Then align the pieces at a right angle making sure they are as tight as possible. Prop up these pieces also with spice bottles.
Continue to repeat this step with the other side. For added stability, squeeze icing along the inside edge of all the pieces and on all of the corners.
The Front Piece: Squeeze icing onto the bottom and side edges of the front piece and then position it with the other assembled pieces. Prop it up with more spice bottles and let it dry completely.
Add the Roof: To add the roof of the gingerbread house. Squeeze icing on the upper edges of the front and back of the gingerbread house.
Carefully place your pieces on the front and back slants of the gingerbread house.
You can make roof shingles from Triscuit crackers cut in half.
Using icing, attach the Triscuits to the roof in rows beginning with a bottom row then slightly overlap each row after that.
If you prefer, you can put hard candy, gumdrops, licorice or chocolate chips on top of the roof to decorate it instead. Like in this picture with NECCO candy wafers.
Decorating the Gingerbread House
WINDOWS: If you cut out windows on your gingerbread house you can decorate them this way. Use a #5 tip to outline the windows and doors with white icing. If you would like to make shutters on your windows you can use the pieces of a Hershey's candy bar.
Make Some Scenery You can also get a little creative and decorate scenery around the gingerbread house like making a fence with pretzels.
TREES: To make trees use a serrated knife and carefully score and cut sugar ice cream cones to desired heights. Then tint a portion of icing with green and use the leaf tip to decorate the trees.
SHRUBS: You can also make shrubs by using spearmint candies or decorating marshmallows with green icing using a leaf tip.
When the frosting dries you can arrange the trees and shrubs around the house where you want by attaching it to the base with icing.
PATHS and GRASS: If you want to make a path in front of the gingerbread house you could do this by cutting jellybeans in half lengthwise. Then arrange them cut side down in front of the door of the gingerbread house. To make grass tint coconut with green.
Suggested Decorations for a Gingerbread house
1 pkg Triscuit crackers for roof
Decorative candies and sugars
Hershey Bars for shutters
Pretzels for fence
Sugar ice cream cones - for trees
Large marshmallows for bushes
Spearmint or peppermint candies
Colored miniature marshmallows
Jellybeans for path
Coconut for grass or snow
Other Gingerbread Pages

Holiday Recipe
Start with a heart full of love. Add warm friendship spiced with laughter and merriment. Season with joyful greetings and serve with loads of good cheer.
Stocking Stuffers
Wrap your homemade candies in colorful plastic wrap and tie with festive ribbons. You might even want to add beaded eyes or a felt nose to the wrapper. And don`t forget to package your edible gift with an ornament or even attach the recipe.
Holiday Gift Bags
For an easy homemade Christmas gift, make some Chex Party Mix or Crispix Mix and give out as gifts to co workers. Put in cute decorative holiday bags wrapped with curling ribbon. Everybody loves them!
Easy Christmas Crafts
Here's a page to start making some easy Christmas Crafts. Easy Christmas Crafts for Kids and Homemade Christmas Ornaments