Home
>>
Holiday Recipes
>>
Gingerbread
>> Gingerbread Men
Gingerbread Men Cookie Recipes
Let's make some Gingerbread Men, or boys, as I have found some recipes that call them Gingerbread Boys.
Of course the Gingerbread Man have always been a popular cookie. You know the story..."Run, run as fast as you can, you can't catch me, I'm the Gingerbread Man!"

Gingerbread Men
3 1/4 cups flour
1/2 tsp baking soda
1/4 tsp salt
1 tsp ground cinnamon
2 tsp ground cloves
1 cup butter - softened
3/4 cup dark brown sugar, firmly packed
1 large egg
1/2 cup molasses
Preheat oven to 325'
Whisk together flour, salt, cinnamon, baking soda, ginger, and cloves. Cream butter and sugar. Scrape down sides of bowl. Add egg and molasses and beat on medium speed until smooth. Scrape down bowl and add flour mixture, blend on low speed until just combined -- do not over mix!
Separate dough into 2 balls and flatten into disks. Wrap each disk tightly in plastic wrap and refrigerate 1 hour.
On floured surface with floured rolling pin, roll dough out to 1/4" thickness. With floured cookie cutters cut into shapes. Gather scraps and re-roll dough until all is used. Place on ungreased baking sheets about 1/2" apart.
Bake 9-11 minutes -- do not brown. Transfer to cool, flat surface and cool.
Icing:
2/3 cup confectioners sugar
1/2 tsp milk
Whisk sugar and milk until smooth but still liquid. Add extra milk if it seems dry. Spoon icing into a pastry bag with small piping tip, or other icing dispenser.
Decorate as desired.
Recipe from a 1979 recipebook
Gingerbread Boys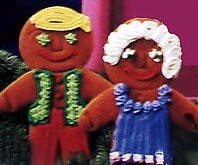 1 cup shortening
1 cup sugar
1/2 teaspoon salt
1 egg
1 cup molasses
2 tablespoons vinegar


5 cups of sifted flour
1 1/2 teaspoons soda
1 tablespoon ginger
1 teaspoon cinnamon
1 teaspoon ground cloves
Thoroughly cream the shortening, sugar, and salt. Stir in egg, molasses, and vinegar; beat well. Sift dry ingredients; stir into molasses mixture. Chill (about 3 hours). On lightly floured surface, roll to 1/8 inch. Cut with gingerbread boy cutter.
Place 1 inch apart on greased cooky sheet. Use red hots for faces and buttons. Bake in moderate oven (375) about 6 minutes. Cool slightly; remove to rack. When thoroughly cool, decorate with Confectioner's Icing. Makes about 5 dozen.
Confectioner's Icing:
Add sufficient light cream or half and half to 2 cups confectioners sugar. to make the consistency you need.
For piped trim (Gingerbread Boys) add only enough liquid to make a mixture that will go through a pastry tube easily and hold it's shape. For bread glaze, make icing a little thinner than spreading consistency. For cookie glaze, have it runny.
Recipe from a 1963 recipebook
Easy Gingerbread Men Ornaments
1 pkg. Spice Cake Mix
1/2 cup all purpose flour
2 eggs
1/3 cup Crisco oil
1/3 cup dark molasses
2 tsp. ground ginger
Raisins for decorations
Combine cake mix, flour, eggs, oil, molasses and ginger in a large bowl. (Mixture will be soft) Refrigerate 2 hours.
Preheat oven to 375°. Roll dough in 1/4 in. thickness on a lightly floured surface. Cut out gingerbread man cookie cutter. Place on ungreased cookie sheet 3 inches apart. Decorate with raisins. Bake 8 to 10 minutes or until edges start to brown. Remove immediately to cooling rack. Makes 12 to 14 six inch tall gingerbread men.
To make holes for a hanging cookie ornament, push straw or meat skewer in top section of cookie before baking.
Recipe from a Cookie Collection Cookbook
More Gingerbread Pages
Holiday Cookie Recipes

Holiday Recipe
Start with a heart full of love. Add warm friendship spiced with laughter and merriment. Season with joyful greetings and serve with loads of good cheer.
Stocking Stuffers
Wrap your homemade candies in colorful plastic wrap and tie with festive ribbons. You might even want to add beaded eyes or a felt nose to the wrapper. And don`t forget to package your edible gift with an ornament or even attach the recipe.
Holiday Gift Bags
For an easy homemade Christmas gift, make some Chex Party Mix or Crispix Mix and give out as gifts to co workers. Put in cute decorative holiday bags wrapped with curling ribbon. Everybody loves them!
Easy Christmas Crafts
Here's a page to start making some easy Christmas Crafts. Easy Christmas Crafts for Kids and Homemade Christmas Ornaments