Home
>>
Holiday Recipes
>> Christmas Candy
Homemade Christmas Candy
Making Homemade Christmas Candy is a fun thing to do with the children while they are on Christmas vacation. The most popular Christmas Candy this year is the Christmas Candy Ornaments. So, go buy some Jolly Ranchers, and have some creative fun while it's snowing outside.
Note: Several candy recipes call for adding a little paraffin wax to the melted chocolate chips. The reason for this is so that your chocolate covered candies won't melt at room temperature. It doesn't need a lot, so be careful not to add too much.
Also see the Peppermint Wreaths Cookies, Cookie Cutter Cookies recipes, and Chocolate Teddy Bears cookies for more fun interactive recipe ideas.
Christmas Candy Ornaments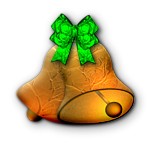 Metal Cookie cutters
Hard candies and sprinkles
10 inch length of ribbon
Preheat oven to 350
For a mold, wrap the bottom and sides of a cookie cutter with foil.
Set on a baking sheet and coat with cooking spray.
Fill each cookie cutter with a single layer of candies.
Bake for 10 minutes or until melted.
Add sprinkles, cool for 2 minutes, then use a chopstick to poke a hole near the top for hanging.

Once cool, remove from the mold and hang with a ribbon.
Tip: Jolly Rancher candies work best, since they produce the brightest color.
Also see Christmas Cookie Tree Ornaments.
How to Make Candy Canes
Combine:
2 cups sugar
1/2 cup light corn syrup
1/2 cup water
1/4 tsp Cream of tartar
Stir until sugar dissolves, then:
Cook without stirring, to light crack stage (265)
-Remove from heat and add 3/4 tsp peppermint extract.
-Divide in two portions; add 1 tsp red-vegetable coloring to one part. Cool.
-Pull each part separately and twist red candy around white.
-Cut in 8-inch lengths and form in shape of candy cane. Makes 10.
Recipe from a 1945 Yankton SD Trinity Lutheran cookbook pg 156
Chocolate Christmas Candy recipes
Christmas Chestnuts
1 lb peanut butter
1 cup soft butter
5 1/2 cups sifted powdered sugar
Make sure you sift the powdered sugar or the candy will be lumpy and too sweet. Mix well in a large bowl, Shape into 1 inch balls, roll in palm of your hands Place on cookie sheet Chill overnight
Heat a 12 ounce package of chocolate chips and 1/4 stick paraffin in a double boiler. Use toothpicks to pick them up and dip into chocolate to cover 3/4. Set on wax paper. Chill
NOTE: Use a toothpick to cover the little hole you made earlier while dipping.
My Note: This Christmas Chestnuts recipe was given to me by my sister in 1985, and I won First Place in a Christmas Candy contest with it. They are very similar to Reeses Peanut Butter Cups.
Buckeyes
1 1/2 cups graham cracker crumbs
2 sticks of butter or margarine (1/2 lb) softened
1 lb of confectioners sugar
1 small can or 1/2 bag of Angel Flake coconut
1 1/2 cups peanut butter
2 tsp. vanilla
Mix all ingredients thoroughly and chill several hours.
Roll into small balls and dip into:
1 x 12 oz package of semi-sweet choc. chips, melted w/ 1 small cake paraffin wax over a double boiler.
Drop onto wax paper and cool. Store in cool place
Chocolate Creams
1 pkg semisweet chocolate squares - 8 oz
1 cup sifted powered sugar
1 egg well beaten
1 Tablespoon milk
Assorted decorations, like coconut, finely chopped nuts or decors
Melt chocolate in a saucepan over very low heat, stirring constantly. Remove from heat. Add sugar, egg, and milk, beat until smooth. Chill until firm enough to handle. Shape into 1/2 inch balls, ovals or logs. Roll in your choice of decorations. Also pecan halves can be pressed into the tops.
Chocolate Truffles
8 oz. cream cheese
4 cups powdered sugar
1 tsp. vanilla
5 (1 oz) squares unsweetened chocolate, melted
chopped toasted almonds, cocoa, or powdered sugar
Gradually add 4 cups powdered sugar to the cream cheese, beating well after each addition. Add melted chocolate and vanilla, mix well. Chill several hours, then shape into 1 inch balls and roll in nuts, cocoa, or powdered sugar.
From 1997 Friedens Reformed United Church of Christ Tripp, SD recipe book pg 55
Millionaire Candy
2 sticks of butter
2 cans of coconut
2 boxes of powdered sugar
2 cups pecans
12 oz pkg of chocolate chips
1 cake paraffin
Melt and pour in large mixing bowl, 2 sticks of butter. Add 2 cans coconut, 2 boxes powdered sugar and 2 cups pecans, mix thoroughly. Roll into balls and let chill in refrigerator about 15 minutes. Melt over double boiler, the 12 oz pkg of chocolate chips and 1 cake paraffin. Dip balls in chocolate mixture and lay on wax paper. Ready to eat when dip has hardened.
Recipe from a 1977 Cookbook
Chocolate Silk

1 pkg. (12 oz.) Chocolate chips
1 ts. vanilla
1/8 tsp. salt
Melt the chocolate chips in the milk and boil just slightly. Remove from heat and add the vanilla and salt. Pour into buttered pie pan. Put in refrigerator until set. Can be cut into pieces or rolled in balls Nuts can be added. Also can roll in nuts, coconut or whatever you like.
Dinner Mints and Butter Mints recipes
Butter Mints
4 tbsp butter
1 lb confectioner's sugar
8 drops oil of peppermint
2 tbsp. cold water
Melt butter; stir in sugar, oil of peppermint, and water. Knead until smooth and firm. (at this point, you can knead in a few drops of food coloring for colored mints, red doesn't work well.) Press mint mixture into desired shapes. Can use mixture in a cookie press. Makes 1 1/2 lbs mints.
Party Mints
2 oz cream cheese
1/4 tsp. flavoring of your choice
1 2/3 c. powdered sugar
Food color if desired
Mix cream cheese, flavoring and color together, then add powdered sugar. Pinch off small pieces and roll into granulated sugar. Press into mold. Unmold at once on wax paper. Makes 40 to 50 mints. Refrigerate.
Mints
1/2 cup butter, softened
1/2 cup shortening
1/2 cup minus 1 Tblsp. water
1 1/4 tsp. salt
1 tsp. flavoring
2 lbs. plus 2 cups powdered sugar
food coloring
Combine all ingredients. Put into molds. Yields: 200.
See the recipe: Mints
Hard Candies
Rock Candy
2 c. white sugar
1/2 c. water
1/2 c. syrup
1 1/2 tsp. cinnamon flavoring or any flavor you want
Mix together sugar, water, and syrup, then cook to hard crack stage. Remove from heat and add flavoring. Pour on buttered cookie sheet and cut into small pieces with scissors, then roll in powdered sugar.
Peppermints
1 1/2 cups sugar
1/2 cup boiling water
6 drops oil peppermint
Put sugar and water into a granite saucepan and stir until sugar is dissolved. Boil ten minutes; remove from fire, add peppermint, and beat until of right consistency. Drop from tip of spoon on slightly buttered paper.
Small Mints
Cook in a 2 qt. saucepan:
2 cups granulated sugar
1/2 cup light corn syrup
Stir till the sugar dissolves. Cook to thread stage (232) without stirring.
Add:
1/8 tsp. cream of tartar

-Beat with a wire whip till creamy.
-Add a few drops flavored oil and food coloring.
-Drop from teaspoon onto wax paper forming patties. (Keep pan over hot water.)
-Store tightly covered. Makes about 60.
See the recipe:
Small Mints.
Miscellaneous Candies
Mashed Potato Candy
1/2 cup instant or leftover mashed potatoes (cold)
1 lb. coconut
1 or more boxes powdered sugar
1/2 tsp. vanilla or almond flavoring
1 pkg. chocolate chips
1/3 cup paraffin
Mix potatoes, coconut, sugar and vanilla together. Roll in 1 inch balls. Refrigerate balls 1/2 hour. Melt chocolate chips and paraffin together. Dip potato balls into chocolate quickly and place on wax paper.
Mock Fondant Balls
1/2 cup butter, softened
1 lb powdered sugar
1/4 cup heavy cream
1 tsp vanilla extract
Hazelnuts, pecans, or walnuts
Chopped candied fruit
Cream butter until light; gradually add sugar. When very thick add cream and vanilla a little at a time. Turn out on a board sprinkled with powdered sugar; knead. Break off about 2 tsp of the mixture and place around a nutmeat or piece of candied fruit to form a ball. Roll in powdered sugar. Repeat with remaining dough. Store in an airtight container in the refrigerator.
Recipe from a 1974 Cookbook
Cherry Bon Bons
3 Tblsp. butter
1 tsp. vbanilla
3 1/2 cups powdered sugar
1/3 cup candied cherries
1/4 cup evaporated milk
pinch of salt
Melt butter in a 2 quart kettle. Remove from heat. Stir in milk, vanilla and salt. Gradually add sugar. Turn onto a board sprinkled with additional powdered sugar. Knead until smooth. Add nuts and cherries. Make into small balls. Refrigerate for 1 hour.
Dipping Chocolate for Bon Bons:
-1 large chocolate bar
-1 pkg. cocoa bits
-wax (about the size of a marble)
See the recipe: Cherry Bon Bons
Rocky Road Candy
2 cups milk chocolate morsels
2 1/4 cups mini-marshmallows
1/2 cup nuts
Melt chocolate over double boiler. Remove from heat. Add marshmallows and nuts. Put in foil-lined 8 inch square pan. Cool. Cut in squares.
See the recipe: Rocky Road Candy
Chocolate Marshmallows
1/4 pound milk chocolate
32 marshmallows
fresh grated coconut
Place chocolate in saucepan and heat slowly until chocolate is melted. Quickly dip marshmallows into chocolate, roll at once into coconut, and place on a buttered plate. Chill.
Homemade Almond Bark Candy
Almond Bark Candy
2/3 cup milk, scalded
2 cups powdered sugar
1 tsp. white syrup
1 Tblsp. butter
1 tsp. vanilla
1 cup chopped almonds
Cook milk, sugar and syrup with a dash of salt to 234 degrees. Remove from heat; add butter. Cool slightly; add vanilla. Beat until thick. Do NOT overbeat, or it will be brittle. Add almonds. Pour into buttered pan.
See the recipe: Almond Bark
Peanut Clusters
1 lb. almond bark (white)
12 oz. pkg. semi-sweet chocolate*
*May use 8 ounces semi-sweet and 4 ounces milk chocolate.
Melt together in a double boiler. Add 1 pound salted nuts.
See the recipe: Peanut Clusters
Plantation Crunch
1 lb. almond bark
2 Tblsp. peanut butter
1/2 cup salted peanuts
3 cups Rice Krispies
Mix first 2 ingredients, then add the next two. Spread on waxed paper or foil. Chill, then break into pieces. Good for the holidays!
See the recipe: Plantation Crunch
More Holiday Candy Pages
Food for Thought:
"Give your troubles to God. He will be up all night anyway."

Holiday Recipe
Start with a heart full of love. Add warm friendship spiced with laughter and merriment. Season with joyful greetings and serve with loads of good cheer.
Stocking Stuffers
Wrap your homemade candies in colorful plastic wrap and tie with festive ribbons. You might even want to add beaded eyes or a felt nose to the wrapper. And don`t forget to package your edible gift with an ornament or even attach the recipe.
Holiday Gift Bags
For an easy homemade Christmas gift, make some Chex Party Mix or Crispix Mix and give out as gifts to co workers. Put in cute decorative holiday bags wrapped with curling ribbon. Everybody loves them!
Easy Christmas Crafts
Here's a page to start making some easy Christmas Crafts. Easy Christmas Crafts for Kids and Homemade Christmas Ornaments