Home
>>
Drinks Recipes
>> Hot Cocoa
Winter Cocoa Recipes
Who can resist a hot cup of cocoa in the middle of the winter? It's got to be one of the ultimate comfort foods.
When I was little, the marshmallow floating in the cup and slowly melting was a delight to the eyes and tastebuds. The hard part was waiting for it to cool enough to take a sip.
Below are a variety of recipes created through the years. Forget the Nestle Quick, and make yourself some real cocoa. If you don't have a doubler boiler, use two different size pots.
How to Make Hot Cocoa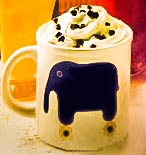 4 tablespoons cocoa
4 tablespoons sugar
few grains of salt
1 cup hot water
3 cups milk
1/2 teaspoon vanilla
Place cocoa, sugar and salt in the top of a double boiler, and mix well. Add hot water slowly, stirring constantly, and cook over direct heat for 3 minutes. Add milk and stir.
Place over boiling water in the bottom of a doubler boiler, and cook slowly, stirring constantly, until milk is hot. Remove from heat, and beat with a rotary beater or fork for 1 minute. Add vanilla and stir. Serve hot. Top with marshmallows or whipped cream, if desired.
Recipe from 1961
Hot Chocolate
2 squares chocolate
3 tablespoons sugar
2 cups cold water
2 cups milk
Melt chocolate; add sugar and cold water and heat until boiling point. Cook 15 minutes in a double boiler. Add milk and heat again. Remove from flame as soon as boiling point is reached.
Recipe from 1937
Cocoa
1 1/2 tablespoons cocoa
2 tablespoons sugar
Few grains of salt
2 cups boiling water
2 cups milk
Mix cocoa, sugar and salt, add 1/2 cup boiling water and when blended add remaining water and boil 5 minutes; turn into milk, which has been scalded, and beat 2 minutes using an egg-beater.
Recipe from 1937
French Chocolate
2 1/2 squares bitter chocolate
1 cup water
1/2 cup sugar
Salt to taste
1 teaspoon vanilla extract
1 cup whipping cream, whipped
4 cups heated milk
Cook the chocolate with water until thick, stirring to prevent sticking. Add sugar and salt. Bring to a boil, remove from heat. Cool. Add vanilla. Fold in whipped cream. Makes about 2 1/2 cups sauce. Place a generous spoonful of sauce in each of 4 serving cups. Refrigerate additional sauce for future use. Add hot milk to fill cup. Stir until mixed.
Recipe from 1974
Food for Thought
"The door to the human heart can only be opened from the inside."
---