Home
>>
Holiday Recipes
>> Peanut Brittle
Peanut Brittle and Toffee Recipes
This is a batch of Cashew Crunch I made, and believe me it didn't last long. It was gone in two days. This stuff is seriously good and easy to make, it would make great gifts for the holidays. Recipe is below.
There's also some popular Peanut Brittle and Toffee recipes going as far back as the 1800's. This candy is still a popular treat today, especially around Christmas time, and is so easy to make.
The interesting thing I found with these recipes, is that the real old recipes just call for melting sugar in the pot, which is exactly how I make my Candied Popcorn. It wasn't until later that they started adding corn syrup to the recipes.
Also be sure to check out how to make the Microwave Peanut Brittle. How easy can it get making this traditional Holiday candy.
Peanut Brittle 1919
Put 2 cups granulated sugar into a heavy pan and melt, stirring constantly to prevent burning.
Scatter a cup of shelled and skinned peanuts on a greased pan and pour the syrup over them. When hard, break into pieces.
Recipe circa 1919
Peanut Brittle 1922
2 cups chopped roasted nuts
3 cups granulated sugar
Put sugar in a frying pan. Stir over slow fire. It will lump, then gradually melt. When pale coffee color, and clear, add nuts and pour quickly on greased tin. When cold break into pieces.
Recipe from a 1922 Royal Baking Powder recipe book pg 43
Peanut Brittle 1
1 cup white sugar
1 cup white Karo syrup
1 cup raw peanuts (leave skins on)
1 tsp. baking soda
1 tsp. salt
1 Tblsp. butter or oleo
Stir sugar and syrup together until melted and boils. Add peanuts, let boil until peanuts pop and turn brown. Remove from stove. Add soda and salt, stir briskly. Pour on buttered pan, thinly. Break into pieces when it starts to cool down. (Be sure to use an iron skillet.)
See the recipe: Peanut Brittle
Buttery Peanut Brittle 2
2 cups granulated sugar
1 cup light corn syrup
1/2 cup water
1 cup butter or margarine
2 cups peanuts, chopped
1 tsp. soda
Heat and stir sugar, syrup, and water in 3 quart saucepan till sugar dissolves. While syrup boils, blend in butter. Stir often after 230 degrees. Add nuts at 280 degrees; stir constantly to hard crack stage (305). Remove from heat. Quickly stir in soda, mixing well. Pour onto 2 cookie sheets. Stretch thin by lifting and pulling from edges with forks. Loosen from pans as soon as possible. Break up. Makes 2 1/2 pounds.
See the recipe: Buttery Peanut Brittle
Here's two more recipes for making Peanut Brittle.
Peanut Brittle 3
2 cups sugar
1 cup white syrup
1 cup water
Stir and then boil to between 235° and 240°.
Add 2 scant cups of raw peanuts and continue to boil to 290°. Remove from heat and add 2 1/2 tsp. soda and 1 tsp. vanilla and stir until the color is a light golden brown. Pour into generously buttered (not margarine) tin foil.
This makes a large batch, so use two pieces of tin foil with a double fold down the center. Grease hands with butter and pat outer edges of the tin foil so pieces will be thin.
See the top recipe: Peanut Brittle
Peanut Brittle 4
1 1/2 cups sugar
2/3 cup corn syrup
2/3 cup water
2 T. butter
2 cups raw peanuts
1/2 tsp. soda
1/4 tsp. salt
Put syrup, sugar and water in kettle, stir over medium heat until it boils. Boil 10 minutes. Add butter and peanuts, stirring constantly until golden brown; 10 to 15 minutes. Add vanilla, soda and salt. Pour on platter and spread thin.
See the bottom recipe: Peanut Brittle
Peanut Brittle with Spanish Peanuts
1 pint white syrup
3 c. sugar
1 package Spanish Salted Nuts
1 1/2 tsp. baking soda
2 Tbsp. butter
Cook all ingredients (except baking soda and butter) in a heavy pan until syrup is amber colored (hard crack 290) Take off fire; stir in butter and soda. Pour real fast on 2 large buttered cookie sheets.
Recipe from a 1970 Rapid City, SD recipe book pg 34
Peanut Brittle you make in the Microwave
Microwave Peanut Brittle 1
1 cup peanuts
1 cup sugar
1/2 cup white corn syrup
1 tsp butter
1 tsp vanilla
1 tsp baking soda
1/8 tsp salt
Stir peanuts, sugar, salt, add syrup in 1 1/2 quart glass bowl. Microwave on high 7 to 8 minutes, stir well after 4 minutes. At end of 8 minutes, add butter and vanilla. Blend well. Return to microwave and cook on High 1 or 2 minutes more. Remove from oven and add baking soda. Stir until light and foamy. Pour immediately on a buttered cookie sheet. Cool 30 to 60 minutes. Break into pieces and store in airtight container.
Microwave Peanut Brittle 2
Cook 4 minutes:
1 cup raw peanuts
1/2 cup white syrup
1 cup white sugar
Add and cook 4 minutes:
1 tsp vanilla
1 Tblsp butter
Add 1 tsp. soda. Pour on greased cookie sheet. Let cool and break into pieces.
See the recipe: Microwave Peanut Brittle 2
Microwave Peanut Brittle 3
2/3 cup raw peanuts
1 cup sugar
1/2 cup white corn syrup
1/8 tsp. salt
1 tsp. baking soda
1 tsp vanilla
1 tsp butter
In a 2 1/2-quart casserole, stir together peanuts, sugar, syrup and salt. Cook 8 minutes on high, stirring well after 4 minutes. Add butter and vanilla. Cook 1 more minute on High. Add baking soda and quickly stir until light and foamy. Immediately pour into lightly buttered baking sheet. Spread thin. When cool, break into pieces.
See the recipe: Microwave Peanut Brittle 3.
Other Nut Brittle recipes
Old Fashioned Nut Brittle
2 cups nuts
2 cups sugar
1/4 teaspoon salt
1/4 teaspoon baking soda
1 teaspoon vanilla
Heat the sugar gradually in a frying pan. Stir constantly with the bowl of the spoon until a golden syrup is formed. Remove from the fire and quickly stir in the soda, salt, and vanilla. Pour the syrup over a layer of nuts in an greased pan. When cold crack into small pieces.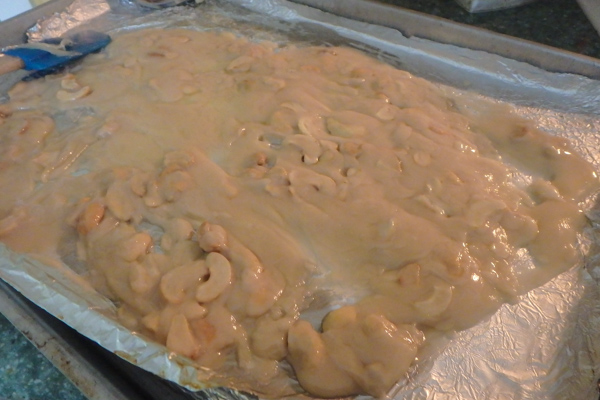 The recipe is below. The recipe can be easily doubled. Almonds can also be used instead of cashews.
Cashew Crunch 1
1 stick butter, plus 1 T. to butter the pot and aluminum foil.
1/2 c. sugar
1 Tblsp. corn syrup
3/4 c. cashews
-Butter a sheet of aluminum foil, then butter a small heavy saucepan.
-Add the stick of butter, and put on Med-High heat.
-When the butter melts, add the sugar and corn syrup.
-Bring to a boil and boil 5 minutes, or until you see it turn a light golden brown.
-Then pour on your buttered foil and quickly spread out with a spatula. Let cool. Peel off the foil, and break into pieces. Makes about 1/2 pound.
My Note: I have been making this since Christmas, because it's so buttery and good. One time, I didn't cook it long enough and it was chewy. So I remelted it in the pot, cooked it several minutes longer, and it worked! Turned out perfect. So don't be afraid to recook it, if you have too.
Cashew Crunch 2
2 sticks butter or oleo
1 cup sugar
2 T. water
3/4 cup cashews
Boil 7 minutes, then put on a buttered cookie sheet and let cool. Break into pieces. Makes about 1 pound.
Recipes with Almonds
Quick Almond Crunch
In a heavy skillet, melt 1 cup butter; stir in 1 cup sugar. Add 1 1/2 cups slivered blanched Almonds, stir constantly over medium heat until mixture is golden brown (about 15 minutes)
Pour into a jelly roll pan, spreading thinly. Immediately sprinkle with 1/2 cup to 1 cup semisweet chocolate pieces; spread evenly to glaze. Chill.
When chocolate is set, crack candy into pieces. Store in covered container in the refrigerator.
Recipe from a 1963 cookbook
Glazed Almonds Recipe
Combine 1 cup whole almonds, 1/2 cup sugar, and 2 tablespoons butter in heavy skillet. Cook over medium-low heat,
stirring constantly
, till almonds are coated and sugar is golden brown, about 15 minutes. Stir in 1/2 teaspoon vanilla. Spread nuts on aluminum foil. Cool. Break into 2 or 3 nut clusters. Sprinkle lightly with salt.
See the Glazed Almonds Recipe
Almond Butter Crunch
1 cup butter or margarine
1 1/3 cups sugar
1 tablespoon light corn syrup
3 tablespoons water
1 cup coarsely chopped almonds, toasted
4 4 1/2-ounce bars milk chocolate, melted
1 cup finely chopped almonds, toasted
Melt butter in heavy 2-quart saucepan. Add sugar, syrup, and water. Cook stirring often, to hard crack stage (300). Watch carefully after 280 degrees. Quickly stir in coarsely chopped nuts; spread in well-greased 13x9x2-inch pan. Cool. Turn out on waxed paper. Spread top with half the chocolate and sprinkle with half the finely chopped nuts; cover with waxed paper; invert and repeat chocolate and nuts. Chill to firm. Break.
See the recipe: Almond Butter Crunch
Coffee Walnuts
1 cup brown sugar
1/2 cup granulated sugar
1/2 cup dairy sour cream
1 tablespoons instant coffee powder
1 teaspoon vanilla
3 cups walnut halves
Combine brown sugar, white sugar, sour cream, and coffee powder in saucepan. Cook and stir to soft ball stage (236). Remove from heat; stir in 1 tsp. vanilla. Add 3 cups walnut halves; stir gently to coat. Separate nuts on buttered cookie sheet. Makes 4 cups.
See the recipe: Coffee Walnuts.
Butterscotch
1 cup sugar
1 tablespoon vinegar
1/4 cup molasses
2 tablespoons boiling water
1/2 cup butter
Boil ingredients together until, when tried in cold water, mixture will become brittle. Turn into a well buttered pan; when slightly cool, mark with a sharp-pointed knife in squares. This candy is much improved by cooking a small piece of vanilla bean with other ingredients.
Recipe from Fannie Farmer 1893 Cookbook
How to Make English Toffee
English Toffee 1
1 c. butter
1 c. sugar
3 Tbsp. water
Cook until 290 degrees. Add 3/4 cup nuts and spread in buttered pan. Crumble 2 bars (4 oz. size) Hershey chocolate over top and spread over top. Cool and crack into pieces.
Recipe from a 1970 Rapid City SD recipe book pg 35
English Toffee 2
1/2 lb. butter
1 cup white sugar
1 Tbsp. water
1/4 cup chopped nuts, warmed
chocolate bar shaved or semisweet chips
Measure all ingredients and set aside. Line cookie sheet with foil. Over medium heat melt butter and add sugar very slowly, stirring constantly until sugar turns tan. Add nuts and turn mixture onto the lined cookie sheet. (The lighter the color of mixture, the softer the candy will be) While candy is hot spread chocolate over the top. When solid enough to handle, turn slab over and coat other side with chocolate while still warm. Cool. Break into pieces.
Homemade English Toffee 3
1/2 lb. butter
1 cup sugar
2 Tbsp. water
1 tsp. vanilla
chopped pecans
Cook in an iron skillet. Blend butter, sugar and water. Cook over medium heat, stirring constantly, until it reaches a light brown. Add vanilla and pour into a buttered platter. Let stand for a short time, then place 5 or 6 thin Hershey's bars on top while candy is still hot (so they will melt); spread over toffee. Then sprinkle chopped pecans on top. Place in refrigerator and break into pieces when cold.
See the recipe: Homemade English Toffee
Toffee
1 cup butter
1 cup sugar
5 Tbsp. cold water
Bring to a boil and boil on med-high heat until the mixture becomes golden brown, stirring constantly. Pour onto a buttered cookie sheet. Let cool several minutes then pour milk chocolate chips for frosting and top with nuts.
See the recipe: Toffee
More Holiday Candy Recipes

Holiday Recipe
Start with a heart full of love. Add warm friendship spiced with laughter and merriment. Season with joyful greetings and serve with loads of good cheer.
Stocking Stuffers
Wrap your homemade candies in colorful plastic wrap and tie with festive ribbons. You might even want to add beaded eyes or a felt nose to the wrapper. And don`t forget to package your edible gift with an ornament or even attach the recipe.
Holiday Gift Bags
For an easy homemade Christmas gift, make some Chex Party Mix or Crispix Mix and give out as gifts to co workers. Put in cute decorative holiday bags wrapped with curling ribbon. Everybody loves them!
Easy Christmas Crafts
Here's a page to start making some easy Christmas Crafts. Easy Christmas Crafts for Kids and Homemade Christmas Ornaments